'High-Rise' Trailer: Tom Hiddleston Is An Excellent Specimen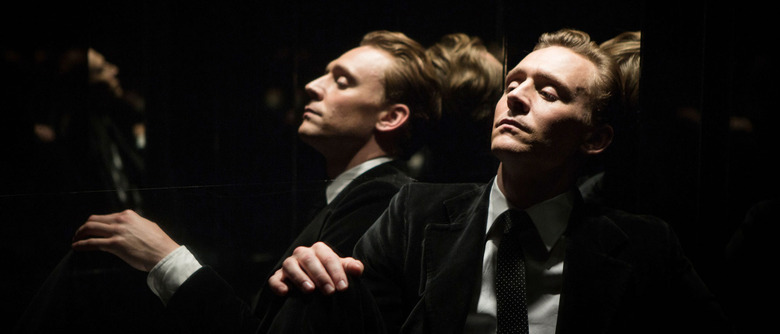 Tom Hiddleston is one of the few Marvel stars sitting out this summer's Captain America: Civil War, but he might have something even better up his sleeve. This spring brings the release of Ben Wheatley's High-Rise, in which he plays a doctor named Robert Laing who moves into a high-end apartment building. He's seduced by the easy luxury of life in the tower, which seemingly has everything a young man could need.
But tension and unease are brewing between the classes, and a charismatic provocateur named Wilder (Luke Evans) is fanning the flames of revolution. Full-fledged chaos breaks out, and Laing finds himself swept up as well. Watch the latest High-Rise trailer after the jump. 
High-Rise premiered at TIFF last year, to decidedly mixed reviews. In a D- review, Collider's Matt Goldberg complained that "by the time the movie devolves into an orgy of blood and f***ing, it's too incomprehensible to matter," while on the flip side, Movies.com's John Gholson gushed that "Laing is Hiddleston's best work to date." But then again, that's part and parcel for a Wheatley production. As WhatCulture's Alex Leadbeater, a self-confessed Wheatley fan, notes, "Divisive just doesn't cut it – he makes the Marmite debate look petty (pettier?). His movies sit as decidedly average on the likes of IMDb, but they are as far from the norm as possible." You may or may not like High-Rise, but you're sure to find something unusual in it either way, and that's more than you can say for most of what gets churned into theaters.
1975. Two miles west of London, Dr. Robert Laing moves into his new apartment seeking soulless anonymity, only to find that the building's residents have no intention of leaving him alone. Resigned to the complex social dynamics unfolding around him, Laing bites the bullet and becomes neighbourly. As he struggles to establish his position, Laing's good manners and sanity disintegrate along with the building. The lights go out and the lifts fail but the party goes on. People are the problem. Booze is the currency. Sex is the panacea. Only much later, as he sits on his balcony eating the architect's dog, does Dr. Robert Laing finally feel at home.....
High-Rise opens March 18 in the U.K. In the U.S., it hits VOD April 28 before going to theaters May 13.