'GoldenEye' Reunion Alert: Martin Campbell And Pierce Brosnan Teaming Up For Ernest Hemingway Movie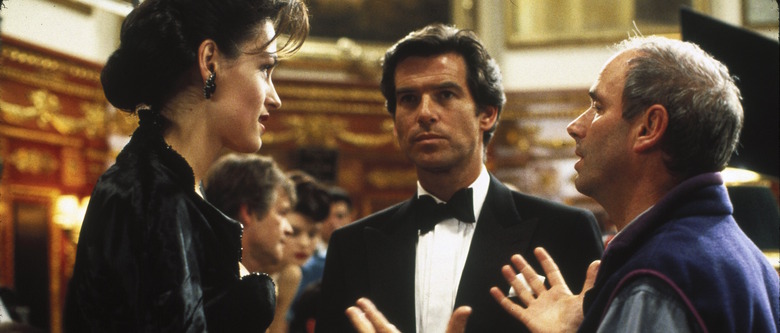 We may receive a commission on purchases made from links.
Two decades after GoldenEye, star Pierce Brosnan and director Martin Campbell are looking to team up again, albeit for a very different kind of movie. They're joining forces for Across the River and Into the Trees, based on Ernest Hemingway's 1950 novel about an older man who travels to an exotic location and strikes up a romance with a much younger woman. So on second thought, maybe Across the River and Into the Trees has something in common with James Bond after all. 
THR reported on the Pierce Brosnan Martin Campbell project. Kidding aside, here's the synopsis for Across the River and Into the Trees (via Amazon):
Set in Venice at the close of World War II, Across the River and into the Treesis the bittersweet story of a middle-aged American colonel, scarred by war and in failing health, who finds love with a young Italian countess at the very moment when his life is becoming a physical hardship to him. It is a love so overpowering and spontaneous that it revitalizes the man's spirit and encourages him to dream of a future, even though he knows that there can be no hope for long. Spanning a matter of hours, Across the River and into the Treesis tender and moving, yet tragic in the inexorable shadow of what must come.
Across the River and Into the Trees will be produced by Robert MacLean, John Smallcombe, Kirstin Roegner, and Claudia Bluemhuber and executive produced by William J. Immerman. In case it wasn't clear, Campbell will direct and Brosnan will star as the aging military officer. Shooting is expected to begin this fall in Venice.
Campbell and Brosnan are actually currently in the midst of shooting a different project together. Titled The Foreigner, the revenge thriller stars Jackie Chan as a London Chinatown restaurant owner whose daughter has been killed by Irish terrorists. When the justice system fails him, he's forced to take vengeance into his own hands. Brosnan plays an IRA member who is now a government official.
Campbell ushered in two Bonds — Brosnan with GoldenEye and Daniel Craig with Casino Royale — and last directed the comic book franchise non-starter Green Lantern. Since then he's directed a handful of TV pilots including Last Resort, Warriors, and Reckless. Brosnan's eclectic recent output includes the thrillers The November Man and No Escape and the comedies Some Kind of Beautiful and The World's End.