Ava DuVernay Courted For 'A Wrinkle In Time' And Colin Trevorrow's 'Intelligent Life' [UPDATED]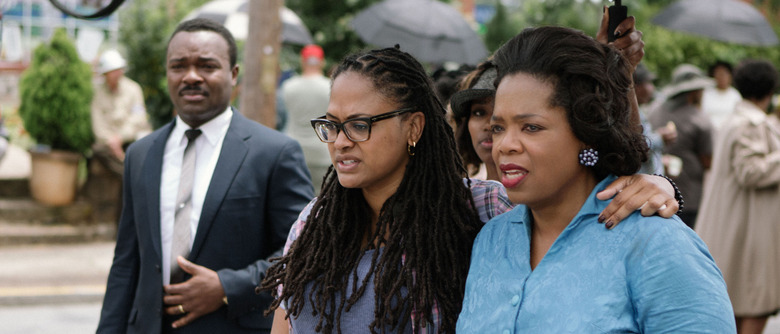 With Selma, Ava DuVernay went from a Sundance darling to one of the busiest and most sought-after filmmakers in Hollywood. She flirted with and then turned down Marvel's Black Panther, she made plans to reunite with Selma star David Oyelowo for a Hurricane Katrina drama, and she got to work developing the drama Queen Sugar for Oprah Winfrey's OWN network.
What she hasn't done, however, is announced her next feature film. And as of now, a couple of different genre projects are vying to be it. DuVernay is reportedly being courted for both Disney's A Wrinkle in Time and Amblin's Intelligent Life. The former is an adaptation of the childhood classic by Madeleine L'Engle, and the latter is a sci-fi thriller scripted by Jurassic World's Colin Trevorrow and Derek Connolly.
UPDATE: Lupita Nyong'o is reportedly in talks for Intelligent Life, and DuVernay should receive a formal offer in short order. More details below.
Deadline reported on the possible Ava DuVernay A Wrinkle in Time and Intelligent Life projects. A Wrinkle in Time has been in the works for a while already, and has a script by Oscar-winning Frozen co-writer and co-director Jennifer Lee. The sci-fi fantasy adventure follows a young girl whose father, a government scientist, has mysteriously vanished after working on something called a tesseract.
Although L'Engle's A Wrinkle in Time has been beloved since its original publication in 1963, this new project will be the first theatrical feature based on it. Disney did, however, release a TV movie adaptation in 2004. It was not well received, and L'Engle herself said it "met expectations": "I expected it to be bad, and it is," she said. Here's hoping the new iteration, whether or not DuVernay decides to adapt it, turns out better.
As for Intelligent Life, it follows a UN worker in a department whose purpose is to represent the human race if we ever have contact with aliens. The man falls for a woman who turns out to be an alien herself. Earlier reports likened it to Trevorrow's time travel charmer Safety Not Guaranteed, which was driven more by its characters than its high-concept sci-fi premise.
UPDATE: THR reports Nyong'o "will play the woman at the center of the alien contact." Intelligent Life is shooting this summer with Frank Marshall and Trevorrow producing. The project is not expected to conflict with A Wrinkle in Time, so DuVernay could conceivably do both.
Originally, the plan was for Trevorrow to direct Intelligent Life as his follow-up to Jurassic World. But as we all know, Trevorrow is about to be busy with another, much larger-scale sci-fi film, Star Wars Episode IX. Hence the search for a new director. (Don't worry about Trevorrow, though — he still got to take a break from big-budget franchise pics with the original drama The Book of Henry, which should arrive in the next year or so.)
Time will tell which, if any, of these projects DuVernay decides to take on. But from the outside, they both sound intriguing. DuVernay famously turned down Black Panther because "it really wasn't going to be an Ava DuVernay film," which is fair — working within Marvel's house style isn't for everyone. A Wrinkle in Time and Intelligent Life, on the other hand, are both properties that haven't been established on the big screen, and should provide DuVernay ample opportunity to put her own personal stamp on them.