Leonardo DiCaprio Re-Teaming With 'The Revenant' Writer For 'Conquest'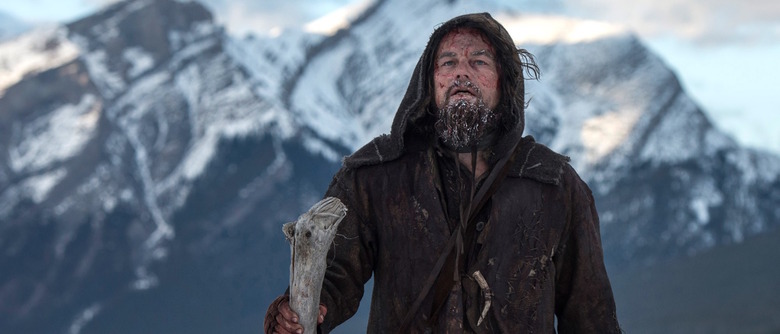 It's not entirely Mark L. Smith's fault that Leonardo DiCaprio found himself chowing down on raw bison liver and risking hypothermia in freezing cold water on the set of The Revenant. But as the screenwriter, Smith definitely bears some responsibility. He's the one who wrote Hugh Glass into a world that gets "colder, icier, more frozen and harder," as his journey continues, after all.
Still, The Revenant's famously difficult production process has paid off, at least in that five-time Oscar nominee Leonardo DiCaprio seems to have best shot yet at actually taking home a statue. So maybe it's not surprising DiCaprio is looking to hook up with Smith again. The two are reuniting for Conquest, which has just been picked up by Paramount Pictures. 
Deadline reports Paramount beat out other interested studios to close a deal for Conquest. It's described as a "star vehicle" for DiCaprio, but details beyond that are scarce. Smith is writing the screenplay, and John Davis (Joy) will produce. DiCaprio's production shingle Appian Way is not involved, as far as we know. No plot details have been revealed, and we don't even know what genre the film will be — though given the title and the names involved, we're gonna go ahead and guess it won't turn out to be a lighthearted comedy.
Word of Conquest comes as DiCaprio and the rest of the Revenant cast and crew wait to see how their Oscar hopes pan out. The film is up for 12 nominations in all including Best Picture, and DiCaprio is looking like a frontrunner in the Best Actor category. (And if the Conquest news helps remind voters of how much they enjoyed DiCaprio and Smith's last effort together, all the better.)
Paramount released a number of DiCaprio's big hits including The Wolf of Wall Street, Shutter Island, and the biggest hit of them all, Titanic. They're also also behind the 1890s serial killer biopic The Devil in the White City, which will re-team DiCaprio with Martin Scorsese. Billy Ray (Captain Phillips) is writing that one. DiCaprio has a number of projects to choose from right now, but hasn't yet revealed which movie he'll shoot next.
Besides Conquest and The Revenant, Smith and DiCaprio have been working together on Endurance, about polar explorer Ernest Shackleton, and King Harald, about the 11th century Viking ruler. (So maybe Conquest is yet another biopic about a tough guy facing the elements?) Outside of his collaborations with DiCaprio, Smith's scripts include Collider for director Edgar Wright and producer J.J. Abrams, and Ghost Recon for director Michael Bay.