'Mike And Dave Need Wedding Dates' Trailer: Anna Kendrick And Aubrey Plaza Out-Bro The Bros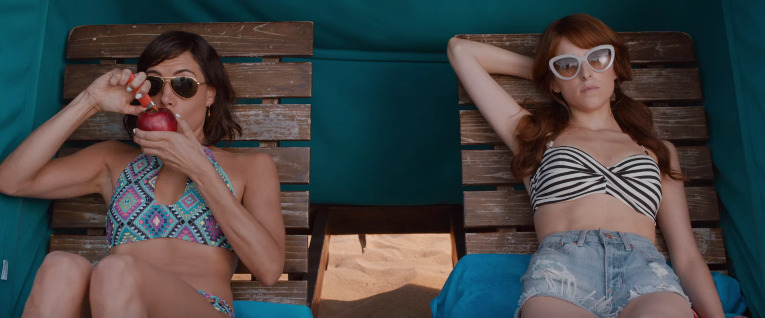 One of the recurring themes of 2016 is going to be Zac Efron, comedy star. The High School Musical alum has not one, not two, but three separate comedies coming out this year. The first, Dirty Grandpa, has already come and gone, and this summer brings Neighbors 2: Sorority Rising and Mike and Dave Need Wedding Dates.
Efron leads the latter as the titular Dave, while Adam DeVine plays Mike. As the title suggests, the Stangle brothers need wedding dates. Their hard-partying ways have ruined every family gathering, and their dad (Stephen Root) figures a couple of sweet girls will help keep them in line at their sister's wedding. They end up with Tatiana (Aubrey Plaza) and Alice (Anna Kendrick), who turn out to be much, much more than they bargained for. Watch the first Mike and Dave Need Wedding Dates trailer after the jump. 
It's a common trope in comedy for men to play the irresistible, irrepressible party-loving bros, and women to play the nags that eventually drag them, kicking and screaming, into rational adulthood. Mike and Dave Need Wedding Dates seems to turn that stereotype on its head, as the girls brought in to keep the boys in check prove to be even wilder than they are. Starting with the fact that Tatiana is actually willing to let herself get hit by a car to get a free trip to Hawaii.
Mike and Dave Need Wedding Dates is directed by Jake Szymanski, the Funny or Die vet who last directed HBO's tennis mockumentary 7 Days in Hell. The comedy arrives July 8. Here's the synopsis:
Hard-partying brothers Mike (Adam Devine) and Dave (Zac Efron) place an online ad to find the perfect dates (Anna Kendrick, Aubrey Plaza) for their sister's Hawaiian wedding. Hoping for a wild getaway, the boys instead find themselves outsmarted and out-partied by the uncontrollable duo.