Watch All Of The 2016 Super Bowl Movie Trailers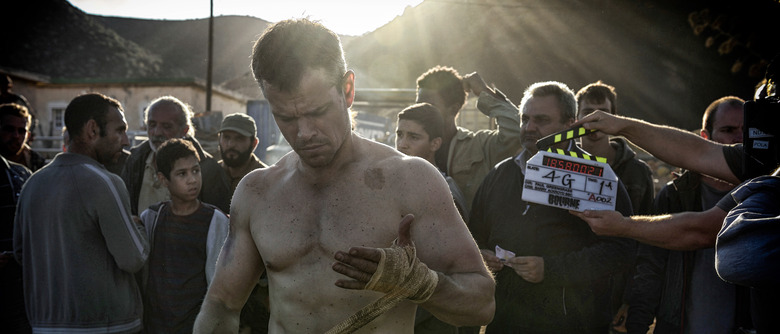 Super Bowl spots never come cheap, but this year they cost more than ever: up to $5 million for a 30-second spot, according to reports. Which means the studios have to bring it to make sure that steep price tag is worth it — and bring it they did.
This year's batch included our very first peek at the newly titled Jason Bourne, another look inside the mysterious 10 Cloverfield Lane, a glimpse of Krang from Teenage Mutant Ninja Turtles: Out of the Shadows, some clever not-quite promos for Batman v Superman, plus trailers for Independence Day: Resurgence, X-Men: Apocalypse, and much more. Watch all the 2016 Super Bowl movie trailers after the jump.
2016 Super Bowl Movie Trailers
Eddie the Eagle
Eddie the Eagle got in the spirit of the Super Bowl with approving quotes from actual football players.
Gods of Egypt
Talk about epic showdowns: Alex Proyas' latest literally pits gods against each other.
Batman v Superman: Dawn of Justice
While Batman v Superman didn't actually buy any Super Bowl ad time, it got in two clever promos thanks to its partners at Turkish Airlines.
Deadpool
In typical form, Deadpool got irreverent with his Super Bowl ad.
10 Cloverfield Lane
Our latest peek inside Bad Robot's mystery box ended with a very satisfying and very interesting roar.
Captain America: Civil War
The new Civil War footage was nice, but we're also really pumped about the adorable Twitter emojis that Marvel rolled out to accompany it. (Try tweeting #TeamIronMan or #TeamCap if you don't know what we're talking about.)
The Jungle Book
The Jungle Book Super Bowl spot wowed with its dynamic action and intensely realistic CG effects.
Jason Bourne
No longer going by Untitled Next Bourne Chapter, the Bourne movie revealed its first footage and its brand-new title.
Teenage Mutant Ninja Turtles: Out of the Shadows
The Turtles prepare to face off against a new nemesis: Krang.
Independence Day: Resurgence
Twenty years after Independence Day wowed with a spot during Super Bowl XXX, its sequel returned with some awesome new footage during Super Bowl 50.
Hulk vs. Ant-Man
Okay, so this one's not technically a movie trailer. But we wish it were. We would definitely watch a movie about Ant-Man battling the Hulk.
X-Men: Apocalypse
Minutes after Coldplay's performance during the Super Bowl halftime show, they returned — kind of — in the form of a moody cover soundtracking the X-Men: Apocalypse spot.
The Secret Life of Pets
This year's batch of Super Bowl movie trailers wound down to a cute finish with The Secret Life of Pets.