'Captain America: Civil War' Super Bowl Spot: United We Stand, Divided We Fall [UPDATED]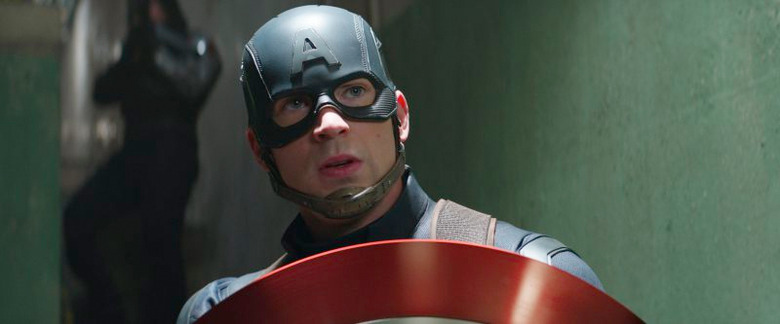 The Super Bowl has its charms, but with all due respect to the Carolina Panthers and the Denver Broncos, it's got nothing on the epic showdown coming in Captain America: Civil War. The movie pits Avengers teammates Captain America (Chris Evans) and Iron Man (Robert Downey Jr.) against each other in a battle that threatens to tear apart the MCU's entire population of superheroes — including new additions like Black Panther (Chadwick Boseman) and Spider-Man (Tom Holland).
A new Super Bowl spot digs a little deeper into the superhero-vs.-superhero feud, teasing some of the major action and drama to come. Watch the Captain America: Civil War Super Bowl spot after the jump. 
Captain America: Civil War opens May 6.
Marvel's "Captain America: Civil War" finds Steve Rogers leading the newly formed team of Avengers in their continued efforts to safeguard humanity. But after another incident involving the Avengers results in collateral damage, political pressure mounts to install a system of accountability, headed by a governing body to oversee and direct the team. The new status quo fractures the Avengers, resulting in two camps—one led by Steve Rogers and his desire for the Avengers to remain free to defend humanity without government interference, and the other following Tony Stark's surprising decision to support government oversight and accountability.
Marvel's "Captain America: Civil War" stars Chris Evans, Robert Downey Jr., Scarlett Johansson, Sebastian Stan, Anthony Mackie, Emily VanCamp, Don Cheadle, Jeremy Renner, Chadwick Boseman, Paul Bettany, Elizabeth Olsen, Paul Rudd and Frank Grillo, with William Hurt and Daniel Brühl.
Anthony & Joe Russo are directing with Kevin Feige producing. Louis D'Esposito, Alan Fine, Victoria Alonso, Patricia Whitcher, Nate Moore and Stan Lee are the executive producers. The screenplay is by Christopher Markus & Stephen McFeely. Get ready to pick a side and join the nonstop action playing out on two fronts when Marvel's "Captain America: Civil War" opens in U.S. theaters on May 6, 2016.