'Teenage Mutant Ninja Turtles: Out Of The Shadows' Super Bowl Spot Offers First Look At Krang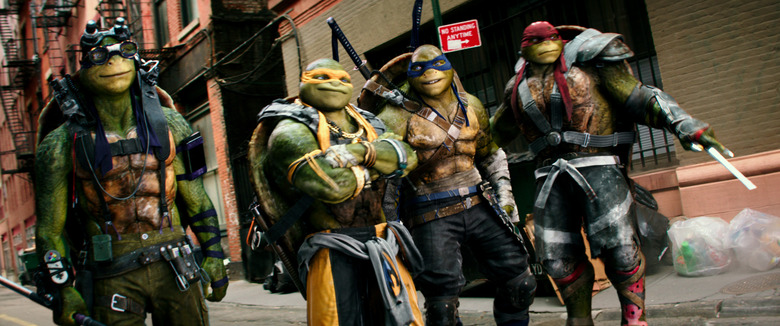 We met the newest live-action iterations of Leonardo, Raphael, Michelangelo, and Donatello when Teenage Mutant Ninja Turtles hit screens in 2014. But when they return to theaters this year in Teenage Mutant Ninja Turtles: Out of the Shadows, they'll be bringing some fresh faces along with them.
On the friendly side, the most exciting new addition is probably Casey Jones, the hockey stick-wielding vigilante to be played by Stephen Amell. And it's just as well he'll be along for the ride, since the Turtles are going to be up against some dastardly new foes including Bebop (Gary Anthony Williams), Rocksteady (Stephen "Sheamus" Farrelly), and Baxter Stockman (Tyler Perry) — and maybe most exciting of all, Krang. A new Teenage Mutant Ninja Turtles 2 Super Bowl spot offers a better look at what's in store for our heroes in a half shell. Watch it after the jump. 
Pete Ploszek, Alan Ritchson, Noel Fisher, and Jeremy Howard return as Leonardo, Raphael, Michelangelo, and Donatello respectively, while Johnny Knoxville once again provides the voice of Leonardo. Also back are Megan Fox as April O'Neil, and Will Arnett as Vernon Fenwick. Laura Linney joins the cast as NYPD bureau chief Rebecca Vincent. Dave Green (Earth to Echo) directs, replacing Jonathan Liebesman from the first film.
2014's Teenage Mutant Ninja Turtles got a mixed reception from fans, but during my visit to the set of the sequel the cast and crew assured us they'd applied the lessons they'd learned from the first film. "I think the comedy and the chemistry of the turtles was what seemed to work the best the first time, and what is the emphasis this time," teased Ritchson. That means more action, more heart, more humor, and above all, more Turtles. And hey, throwing in a super cool new version of the Turtle Van probably doesn't hurt, either.
Teenage Mutant Ninja Turtles: Out of the Shadows arrives June 3.