Channing Tatum And Joseph Gordon-Levitt Are Making An R-Rated Musical Together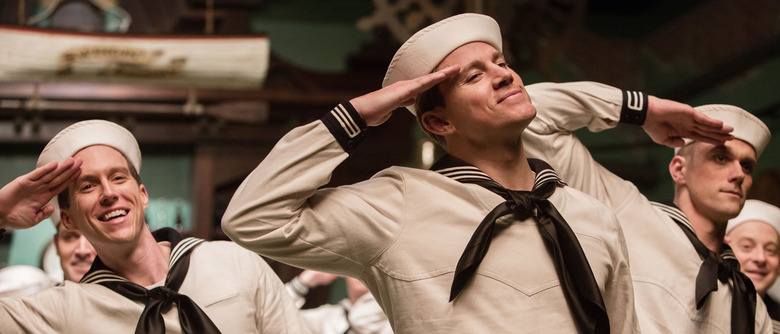 One of the many themes floating around in the Coen brothers' Hail Caesar! is the transcendent power of cinema — the way a really good film can mesmerize, delight, make all your troubles melt away, and awe you with its artistry. And few scenes in the film make a better case for it than the snippet we get to see of "No Dames," an Anchors Aweigh-style musical number starring the Gene Kelly-esque Burt Gurney, played by Channing Tatum.
It's a fantastic showcase for Tatum's talents as a song-and-dance man, and it'll leave you wishing we could get an actual, full-length musical with him. Now, the good news is that we will. And the even better news is that it'll also star Joseph Gordon-Levitt, another actor who's demonstrated some serious moves in the past. 
THR reports Tatum and Gordon-Levitt will co-star in the untitled project for Universal, described as "an R-rated musical comedy featuring two pilots on a misadventure." Michael Bacall, whose credits include Scott Pilgrim vs. The World and 21 Jump Street, will write the script from an idea he conceived with Gordon-Levitt. Marc Platt (Broadway's Wicked) and Adam Siegel will produce alongside Gordon-Levitt, Tatum, Reid Carolin, and Peter Kiernan.
Tatum and Gordon-Levitt have worked together numerous times before. They co-starred in 2005's Havoc, 2008's Stop-Loss, and 2009's G.I. Joe: The Rise of Cobra. When Gordon-Levitt made his directorial debut with Don Jon, Tatum dropped by for a cameo as the star of the movie-within-a-movie. More relevantly, the pair were looking to team up for a Guys and Dolls remake a few years ago. That movie never got off the ground, but this new project sounds like a damn good consolation prize.
Tatum had an early breakthrough in Step Up, and has continued to show off his fancy footwork in films like Magic Mike and its sequel. The Coens are hardly the first to notice he's got a bit of Gene Kelly in him, but Hail, Caesar!, out in theaters this weekend, makes that spiritual connection more explicit. Tatum's other recent credits include The Hateful Eight and Jupiter Ascending, and he's currently prepping for the X-Men spinoff Gambit.
Unlike his co-star, Gordon-Levitt doesn't have any stripping or dancing franchises under his belt. But he got to lead a big, splashy musical number in (500) Days of Summer, and back in 2009 he wowed the SNL audience with a perfect rendition of "Make 'Em Laugh" from Singin' in the Rain. (I couldn't find an embeddable clip to include here, but Google around if you haven't seen it yet — he's pretty impressive.) And he sings in public so often that there are entire listicles devoted to his vocal talents.