THR Cinematographers Roundtable: First-Time Directors, Knowing When To Quit, And More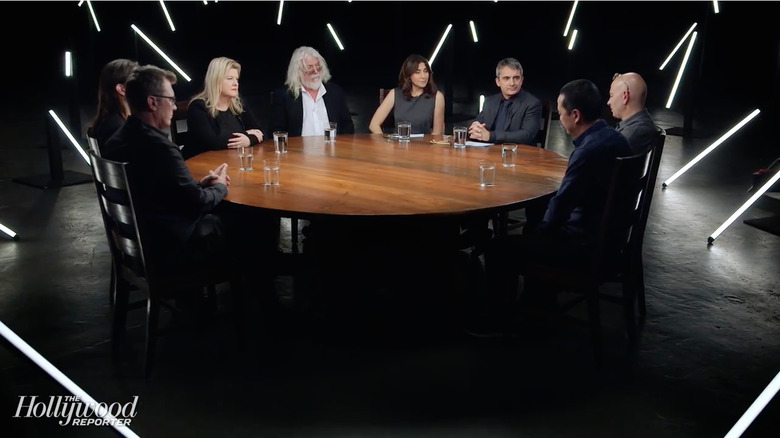 By now if you haven't had the opportunity to watch The Hollywood Reporters roundtables, including the ones involving the actors and the directors, you should take the time to watch them. THR's latest roundtable is focused on the cinematographers. This year's group features Robert Richardson (The Hateful Eight), Alwin Kuchler (Steve Jobs), Masanobu Takayanagi (Black Mass, Spotlight), and more.
Also present at the roundtable are Danny Cohen (The Danish Girl, Room), Linus Sandgren (Joy), and Mandy Walker (Truth). Robert Richardson, especially, is quite candid. When asked about jobs he shouldn't have signed on for, Richardson recounts his experience on World War Z:
Signing on to certain films I shouldn't have made. I took my name off World War Z. It was a digital show. We worked very hard coming up with lookup tables [a digital roadmap]. They were pretty radical, but they were a look the studio had agreed upon. There was no disagreement with the studio, nor the director. Then they dropped it all. They chose their own lookup tables. And a little later, they decided they were going to release it in 3D. I felt I was at a point in my life where: "OK, you have to take some strength for all of us that can't. So Paramount's going to be angry with me. It's going to result in conflict." And I said I was willing to take that conflict on, because no one's protecting us. If the studio has a right to change your things, you hope to have some artistic position to battle them.
Richardson adds he hasn't seen a script from Paramount since. Here's the full THR Cinematographers roundtable:
Richardson has been working with Martin Scorsese for quite a long time now. The two collaborated on Hugo, The Aviator, and Bringing Out the Dead, but apparently the cinematographer's relationship with Scorsese is why we haven't seen him work with Oliver Stone since U-Turn:
I took a Marty [Scorsese] movie, and [Stone's] film got delayed. It could have fit, but he felt it was a betrayal. There's one line — you're either on this side or that side. And I wanted to work with him; I even wanted to work with him when he was going to do the second Wall Street. [I said,] "Why didn't you hire me?" He said, "Because you have too much fire in the belly," that he and I would have friction. He's like a bad brother. It's a great pleasure. I love it. But he can be brutal. I nearly died on a number of occasions with him as the director.