'Miles Ahead' Trailer: Don Cheadle Is Miles Davis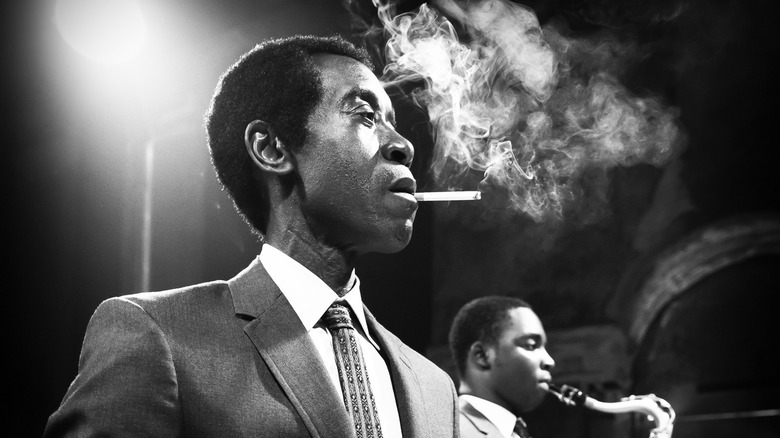 Biopics are more traditionally associated with the year-end glut of prestige pics gunning for Oscar, but in 2016 the flood of biopics starts early. This month brings two sports biopics, Race and Eddie the Eagle, and this spring brings two music movies, I Saw the Light and Miles Ahead.
The last of those is a riff on the life of jazz legend Miles Davis, directed by and starring Don Cheadle. Miles Ahead has already hit the festival circuit, but it finally comes to theaters in April, and as of today we finally have the first trailer. Watch it after the jump. 
Entertaiment Weekly premiered the Miles Ahead trailer.
Miles Ahead marks Cheadle's feature directing debut, but as he explains in an accompanying interview with EW, he didn't always plan for it to be.
[W]hen it first came to me, it was just something for me to act in. When I met with [Miles'] family, I told them I wanted to do something that wasn't like I had seen before, and I had a take on the movie, that if I was going to play him, that it had to be as creative and different, that if it wasn't as aspirational as he was, then I wasn't really that interested. And before I got to my house after that meeting, it kind of came to me that that would be hard for anyone else possibly to see it the same way that I was seeing it, so if I was going to do it, I'd probably have to direct it. And as I was calling them, they were kind of calling me to say the same thing.
"As creative and different and aspirational as Miles Davis" is a tall order for any director, let alone a first-timer, but kudos to Cheadle for his ambition. Miles Ahead made its world premiere at the New York Film Festival last year and hit Sundance just last month, and the word is that it eschews the traditional biopic format for something looser, more improvisational, and, well, jazzier. Vulture even went so far as to call it an anti-biopic.
The film finds Davis at a low point in the late 1970s, out of the spotlight and suffering from pain and a drug addiction. He's approached by a sketchy journalist (Ewan McGregor) who is determined to write his comeback story. When Davis's unheard session tapes are stolen by a record producer (Michael Stuhlbarg), the two men set out to get them back. The story of Davis' earlier years, including his marriage to dancer Frances Taylor (Emayatzy Corinealdi) are told via flashbacks.
Sony Pictures Classics releases Miles Ahead on April 1.