Cool Stuff: Tracie Ching's Roman-Style 'Hail, Caesar!' Print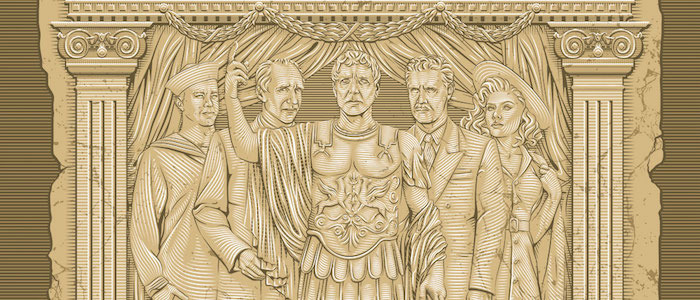 Not only are Joel and Ethan Coen brilliant artists, they're artists who have a way of inspiring other artists. In celebration of their new film Hail, Caesar!, the Hero Complex Gallery is unveiling a series of works by various artists. Today, we're excited to reveal a new piece by Tracie Ching, which doubles down on the Roman theme suggested by the title. Check out her unique artwork after the jump. 
We're big fans of Ching here at /Film, so we are excited to debut her new piece inspired by Hail, Caesar! — by which we mean both Hail, Caesar! the actual movie directed by the Coen brothers, and Hail, Caesar! the movie-within-a-movie directed by the fictional Arne Slessum (Christopher Lambert). In a nod to the latter's ancient Roman setting, Ching serves up a classical frieze featuring the characters played in the Coens' picture by Channing Tatum, Ralph Fiennes, George Clooney, Josh Brolin, and Scarlett Johansson.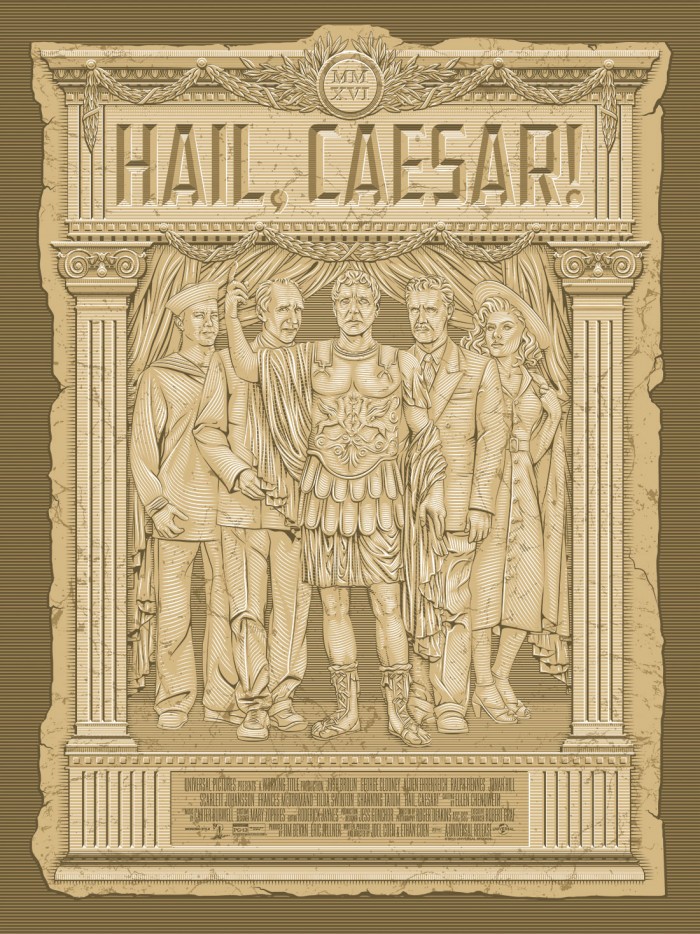 Hail, Caesar! takes place in the Golden Age of Hollywood, following studio fixer Eddie Mannix (Brolin) over the course of one very hectic work day. That includes covering up an out-of-wedlock pregnancy, soothing a very angry director, fending off nosy gossip columnists, and, oh yeah, trying to rescue a big star (Clooney) that's been kidnapped right off the set of his expensive period picture.
Here's Ching on her striking design:
I've had a deep and long-standing respect for the work of the Coen brothers, so when I was approached by Hero Complex Gallery to create a print for Hail, Caesar! I was naturally more than eager. Greatly intrigued by the idea of Roman aesthetics as seen through the lens of a 1920's studio, I decided early on a bas relief-inspired concept would not only be fitting but a unique and exciting challenge as well. It was beyond satisfying attempting to reconcile likeness and the 1920's garb with a limited color palette, all the while maintaining the tricky depths of a Roman-style frieze. I don't believe I would have been able to figure it out had it not been for the excellent tutelage of my late sculpture professor, Tom McAnulty, to whom this design is dedicated.
"The Whitlock Frieze" print measures 18" by 24" and will be available in an edition of 75 for $45 a pop. It'll go on sale later this morning from the Hero Complex Gallery, so keep an eye on their official site as well as their social media accounts (Twitter and Facebook).
Hail, Caesar! arrives in theaters February 5. Alden Ehrenreich, Tilda Swinton, Channing Tatum, and Jonah Hill are among the other members of its star-studded cast.