Ben Foster's Lance Armstrong Movie 'The Program' Will Premiere On DIRECTV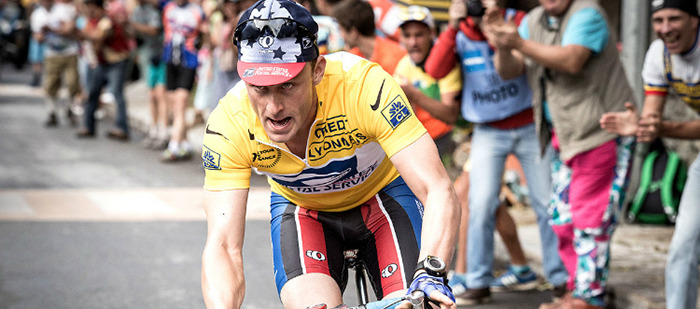 The Program began principal photography almost two and a half years ago, and that's when we get our first look at actor Ben Foster in the role of Lance Armstrong. It's an impressive transformation, but one we haven't gotten to see on the big screen yet. After opening overseas and playing at last year's Toronto International Film Festival, Stephen Frears' drama will premiere on DirecTV this month.
Ben Foster went as far as to use performance-enhancing drugs to play the disgraced cyclist. Even critics that were mixed on the film praised Foster's work. The actor's performance was pegged as a potential awards contender, but The Program missed the awards season last year. Thankfully, we'll finally be able to see the Lance Armstrong biopic soon.
The film will open on DIRECTV Cinema a month before its theatrical and VOD release (via Comingsoon). Hanny Patel, Vice President, Revenue & Content Marketing, AT&T, had this to say:
DIRECTV delivers a unique film experience that can't be found anywhere else and we are thrilled to continue that tradition by bringing 'The Program' to our customers.
The President of Momentum Pictures, Berry Meyerowitz, had this to add:
We are thrilled to be teaming up with DIRECTV on an exclusive basis and eager to share this compelling and topical true story with audiences.
The Program is written by John Hodge (Trainspotting), based on David Walsh's book "Seven Deadly Sins: My Pursuit of Lance Armstrong." Chris O'Dowd plays Walsh in the film, the journalist who suspects Armstrong of cheating. In addition to Foster and O'Dowd, The Program also stars Jesse Plemons, Lee Pace, and Dustin Hoffman.
Stephen Frears has always been a reliable filmmaker often capable of greatness. The Hit, High Fidelity, The Grifters, Dirty Pretty Things – all fantastic films. The Lance Armstrong movie isn't the only Frears' biopic opening in theaters this year, either. Following The Program, we'll see Florence Foster Jenkins, starring Meryl Streep and Hugh Grant.
Here's the synopsis:
The film charts the thrilling rise of pro-cyclist Lance Armstrong through the 90s and early 2000s, battling cancer, as he and his fellow American teammates dominate and change the quintessentially European sport of cycling. Winning the Tour de France an unprecedented seven times, Lance retires as one of the great sporting heroes of our time, and worth millions of dollars. David Walsh, sports writer, is at first charmed by Lance's charisma and talent. Seven Tours later, and ostracised by the cycling community for speaking out, he believes the world is being sold a lie. A lone voice, it is several years before Lance is exposed.
The Program opens in theaters and is available on VOD on March 18th. The film will premiere on DIRECTV a month beforehand.