Nicolas Winding Refn Teams With 'Spectre' Writers For What May Or May Not Be 'The Avenging Silence'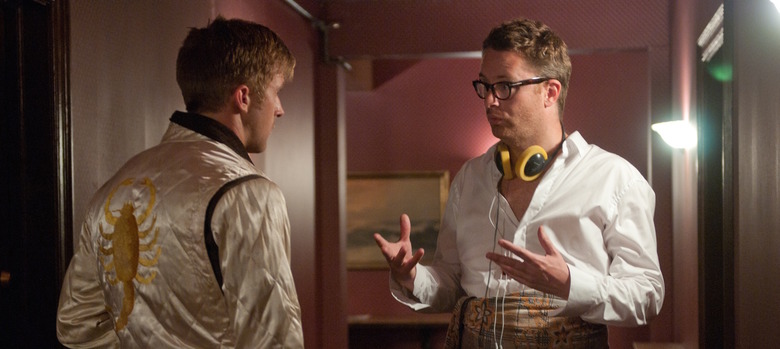 Having just completed The Neon Demon, Nicolas Winding Refn is preparing to dive headfirst into his next new movie. He's set to team with Spectre and Skyfall scribes Neal Purvis and Robert Wade for an Asia-set action-thriller, which may or may not be his previously mentioned project The Avenging Silence. 
Deadline broke the news. Refn is developing and producing the movie with Lene Borglum, and will additionally direct. Plot details are being kept under very tight wraps. However, based on what little information we have about it so far, the new film sounds like it could be The Avenging Silence. Refn let slip his plans for that project last year, describing it as a spy movie to be shot in Tokyo:
Yeah, it's basically a character that appears in my other movies that will now appear again. Having done The Neon Demon, which was predominantly women protagonists, but the character that Mads [Mikkelsen] plays in Valhalla Rising, Ryan [Gosling] plays him in Drive or Vithaya [Pansringarm] in Only God Forgives, I want to make a new movie with that character.
As Refn has previously explained, that character is "a mythological creature that has a mysterious past but cannot relate to reality because he's heightened and pure fetish." Deep stuff.
Purvis and Wade have teamed up on six Bond movies to date, including all four released so far during Daniel Craig's tenure. They're currently working on SS-GB, an upcoming BBC series set in an alternate version of 1940s London in which the Nazis have successfully taken over Great Britain. The duo previously teamed with Refn for the Barbarella TV series, which is in development at Amazon.
Refn's The Neon Demon, which follows an aspiring model (Elle Fanning) in Los Angeles, is expected out sometime this year. Also on Refn's to-do list is John Hyams' remake of Maniac Cop, which Refn will produce. No start date or release date has been confirmed for Refn's untitled new movie, but he's been releasing pictures at a pretty steady clip so we'd expect it to get going sooner rather than later.