HBO's 'Animals' Is One Of The Most Unique And Interesting Shows On Television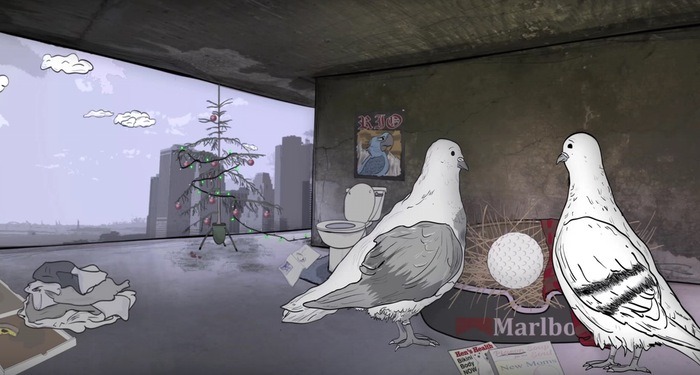 Animals might be the weirdest, craziest, most interesting television show in a long time. The new HBO show feels like someone took a funny clever animated short film from the Sundance Film Festival and adapted it into a television series. The result feels like nothing else on television.
And maybe that's why HBO was interested in airing this series, which was produced by indie darlings the Duplass brothers. HBO has made their dent in the universe by pushing the boundaries of what is considered television.
Last night I was invited to a premiere screening of two episodes of the new HBO animated series. The show is the brainchild of Mike Luciano and Phil Matarese, who came up with the idea while they were working for an advertising firm in New York City. Mark Duplass saw an early version of what would become the show, and invited the duo to come to Los Angeles where they would be given a place to stay and resources to produce the television show.
The plan was to produce a handful of episodes before trying to find a television network to air them. They were able to fill the episodes with a fantastic ensemble of their comedy actor friends, including Adam Scott, Aziz Ansari, Jenny Slate, Lauren Lapkus, Shawn Waynes, Ben Schwartz, Danny McBride, Molly Shannon, Nick Kroll, Rob Corddry, Jon Lovitz, Paul Scheer, Kumail Nanjiani, Matt Walsh, Melanie Lynsey and many many others. Shortly after early cuts of the first episodes were screened at last year's Sundance Film Festival, the series was picked up by HBO. The premium cable channel ordered two full seasons of the series, which shows a lot of confidence.
The series tells the story of animals living in New York City, who have the same problems and conversations of the city's human counterparts. I screened episodes two and five. One told the story of a pigeon who takes steroids in an effort to meet the challenge of another pigeon in a race to "the big green lady with the idea cream cone" (the Statue of Liberty). The other episode followed a rat who takes credit for the invention of clothing to impress a girl. While each episode has a main self-contained storyline, there are also short vignettes that feature other animals in the city. A human plot provides a connected through line for the entire season, although it seems like that storyline is a very minor part of the show in the grand scheme of things.
While the concept and execution is delightfully simple, the show digs deeper into the human condition than your typical animated series. The jokes are clever and relatable, often seemingly written for film geeks. For instance, the two episodes I screened had fantastic references to Paul Thomas Anderson's Boogie Nights, Stanley Kubrick's 2001: A Space Odyssey, and even an appearance of Marc Maron playing the rat version of himself as a podcast interviewer.
Animals reminds me of some of the great weird but funny short films that used to screen in Spike and Mike's Festival of Animation. The crude but charming animation style might be reminiscent of Beavis and Butthead. I could see this hilarious television series either becoming a big hit with a strong word of mouth ("have you seen that show...") or, at very worst, earning its place amongst other loved cult classics like MTV's old Liquid Television.
Animals will premiere on HBO on Friday, February 5th at 11:30PM ET.