'Nine Lives' Trailer: Kevin Spacey Plays A Cat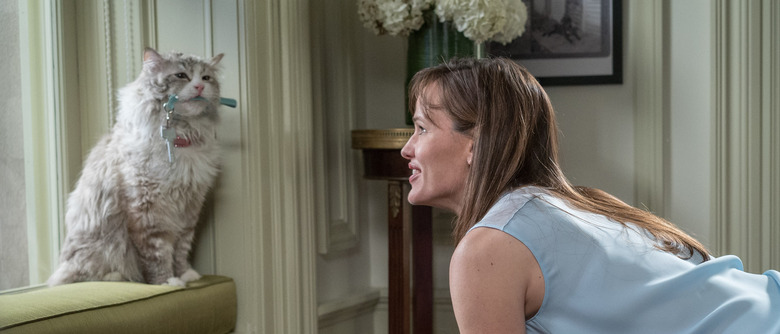 Will 2016 be the year of feature-length cat videos? Last week we got the first trailer for Keanu, Keegan-Michael Key and Jordan Peele's action comedy about two friends out to save the cutest cat ever, and today we've got the first trailer for Nine Lives, starring Kevin Spacey as a cat. Well, technically it stars him as an uncaring billionaire who gets turned into a cat so he can learn about the value of family or the power of love or whatever.
And to answer your next two questions: yes, this is a real movie with a real theatrical release date and everything; and yes, we're sure. Watch the first Nine Lives trailer after the jump. 
Nine Lives doesn't feel like a real movie so much as one of those movie-within-a-movies. Or maybe a made-for-TV movie, like Lifetime's Grumpy Cat's Worst Christmas Ever. Or perhaps just an extended joke based on that other time Kevin Spacey played a cat, in Jimmy Kimmel's 2014 Oscars spoof Ameowedeus. Once you get past all that supernatural cat body-switching stuff, though, it turns out Nine Lives is just another spin on a very familiar plotline: "successful businessman needs to be taught a lesson about what's really important in life."
Directed by Barry Sonnenfeld, Nine Lives arrives August 5, 2016.
Tom Brand (Kevin Spacey) is a daredevil billionaire at the top of his game. His eponymous company FireBrand is nearing completion on its greatest achievement to date – the tallest skyscraper in the northern hemisphere. But Tom's workaholic lifestyle has disconnected him from his family, particularly his beautiful wife Lara (Jennifer Garner) and his adoring daughter Rebecca (Malina Weissman).
Rebecca's 11th birthday is here, and she wants the gift she wants every year, a cat. Tom hates cats, but he is without a gift and time is running out. His GPS directs him to a mystical pet store brimming with odd and exotic cats- where the store's eccentric owner- Felix Perkins (Christopher Walken), presents him with a majestic tomcat, named Mr. Fuzzypants.
En route to his daughter's party, Tom has a terrible accident. When he regains consciousness he discovers that somehow, he has become trapped inside the body of the cat. Adopted by his own family, he begins to experience what life is truly like for the family pet, and as a cat, Tom begins to see his family and his life through a new and unexpected perspective. Meanwhile, his family adjusts to life with an odd and stubborn cat, and his son David (Robbie Amell), steps up in ways Tom never expected.
If any hope exists of returning to his family as the husband and father they deserve, Tom will have to learn why he has been placed in this peculiar situation and the great lengths he must go to earn back his human existence.