'The Secret Life Of Pets' Trailer: The Creatures Of New York Get Their Very Own 'Toy Story'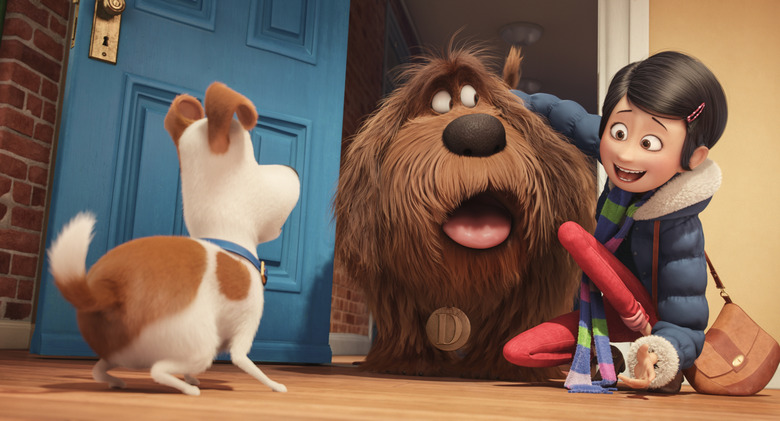 Illumination Entertainment's The Secret Life of Pets promises to reveal just what these creatures get up to when we're not around, and the answers so far have ranged from obvious (eating human food they aren't supposed to) to shocking (headbanging to heavy metal). Now the latest trailer starts to shape those cute little secrets into an actual story.
Louis C.K. voices Max, a terrier living in New York City. He loves life with his owner Katie (Ellie Kemper), and is dismayed when she brings home a new "brother" for Max, a big sloppy mutt named Duke (Eric Stonestreet). One thing leads to another, and before they know it Max and Duke find themselves caught up in an army of abandoned pets led by a bunny named Snowball (Kevin Hart). Watch The Secret Life of Pets trailer after the jump.
Well, that "Toy Story with animals" description couldn't be more apt. But the "mismatched pair begrudgingly learn to respect and care for each other over the course of a perilous journey" endures for a reason. Sometimes, a buddy comedy filled with cutesy characters and a star-studded voice cast is just what the doctor ordered.
For their fifth fully-animated feature-film collaboration, Illumination Entertainment and Universal Pictures present The Secret Life of Pets, a comedy about the lives our pets lead after we leave for work or school each day.
Comedy superstars Louis C.K., Eric Stonestreet and Kevin Hart make their animated feature-film debuts in The Secret Life of Pets, which co-stars Ellie Kemper, Lake Bell, Jenny Slate, Bobby Moynihan, Hannibal Buress and Albert Brooks. Illumination founder and CEO Chris Meledandri and his longtime collaborator Janet Healy produce the film directed by Chris Renaud (Despicable Me, Despicable Me 2), co-directed by Yarrow Cheney and written by Brian Lynch and Cinco Paul & Ken Daurio.
The Secret Life of Pets is out July 8, 2016.