'Kubo And The Two Strings' Trailer: The Latest Stop-Motion Adventure From LAIKA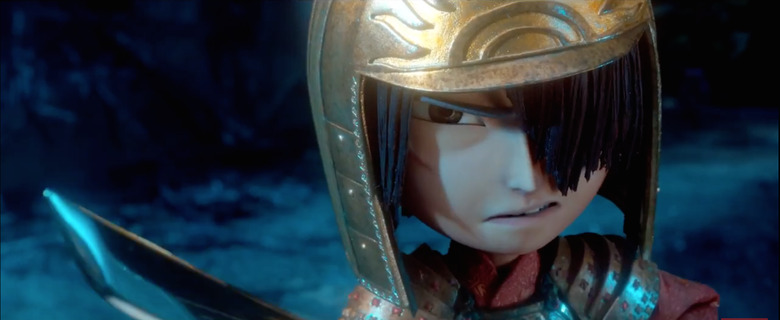 After Coraline, ParaNorman, and The Boxtrolls, in LAIKA we trust. The animation studio made three ambitious, distinct stop-motion animated movies, films that aren't always afraid of scaring children. They trust kids to be brave as their protagonists, which is rare for anyone making family movies. As proven by the this wonderful full-length Kubo and the Two Strings trailer, the company hasn't changed their ways and this looks to be their biggest film to date.
For a PG-rated animated feature, only a LAIKA production would use a cover of The Beatles' "While My Guitar Gently Weeps." Can you imagine that tune in a commercial for a Dreamworks movie? Nothing against their work, but LAIKI (and their marketing) are really on another level. The Kubo and the Two Strings teaser hinted at the adventure that's in store for audiences, but this trailer gives a greater sense of Kubo's (Art Parkinson) quest.
Here's the The Kubo and the Two Strings trailer:
Even though the cast includes Charlize Theron, Rooney Mara, Matthew McConaughey, and Ralph Fiennes, this trailer focuses far more on the visuals, tone, and story. The real star of the trailer is the stop-motion work, not the big names. The stop-motion characters are immaculately crafted, truly popping in those CG environments.
Focus and LAIKIA also released a new batch of character posters for Travis Knight's film and you can check them out below:
Here's the synopsis:
An epic action-adventure set in a fantastical Japan from acclaimed animation studio LAIKA. Clever, kindhearted Kubo (voiced by Art Parkinson of "Game of Thrones") ekes out a humble living, telling stories to the people of his seaside town including Hosato (George Takei), Akihiro (Cary-Hiroyuki Tagawa), and Kameyo (Academy Award nominee Brenda Vaccaro). But his relatively quiet existence is shattered when he accidentally summons a spirit from his past which storms down from the heavens to enforce an age-old vendetta. Now on the run, Kubo joins forces with Monkey (Academy Award winner Charlize Theron) and Beetle (Academy Award winner Matthew McConaughey), and sets out on a thrilling quest to save his family and solve the mystery of his fallen father, the greatest samurai warrior the world has ever known. With the help of his shamisen – a magical musical instrument – Kubo must battle gods and monsters, including the vengeful Moon King (Academy Award nominee Ralph Fiennes) and the evil twin Sisters (Academy Award nominee Rooney Mara), to unlock the secret of his legacy, reunite his family, and fulfill his heroic destiny.
Kubo and the Two Strings opens in theaters August 19th.