Exclusive: The Future Of 'Star Wars' Will Be Told In VR With Big-Name Directors And Top Screenwriters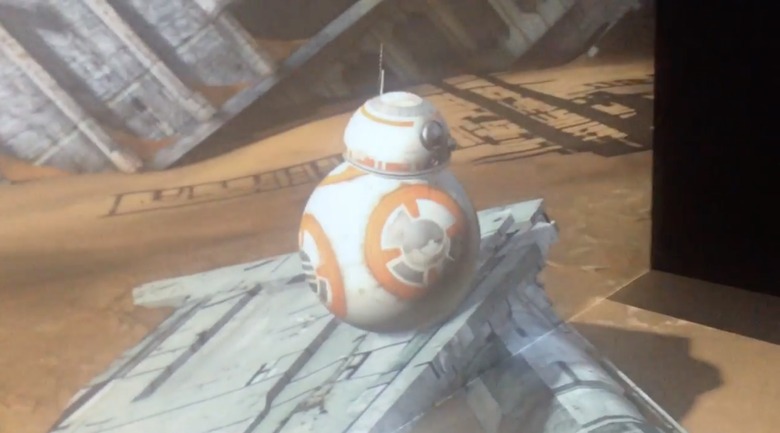 The future of Star Wars will not just be on the movie screen, in books, and in video games. We'll also be experiencing stories from the future of the Star Wars galaxy through the new medium of virtual reality.
And while it's just in the experimental phase now, Lucasfilm and Disney are developing new stories to connect with the upcoming films that will be directed by big-name filmmakers and screenwriters. These will not be normal video games but cinematic experiences that surround and involve us. Learn about the upcoming Star Wars VR experiences, after the jump.
Over the last couple years, virtual reality has begun to invade the Sundance Film Festival as part of the more experimental New Frontier showcase. This year Industrial Light & Magic took part in the festivities, showcasing some of the experimental work from the ILM x Lab.
Holo Cinema: Augmented Reality That Takes You In The Virtual World
I was invited to take a look at a project they called Holo Cinema, which is basically an installation that lets you step into the world of Jakku from Star Wars: The Force Awakens. But this isn't just another Oculus VR demo. Instead, it's presented using projections on the walls and floor that are synced up to your point of view using 3D head tracking. It's hard to describe exactly what this looks like, and even the videos can't accurately explain it. But the feeling is that what you are seeing is really in the room with you. BB-8 rolled around me, I could kneel down and look into his droid eyes. I walked around C-3PO.
After the demonstration I talked with Rob Bredow, head of new media and VP advanced development group; John Gaeta, executive creative director and the creator of "bullet time"; and Diana Williams from the Lucasfilm Story Group. They explained to me that Holo Cinema is just one of the many things they were developing at ILM x Lab. The experience is more augmented reality than virtual reality, although it sounds like ILM will be working on many VR experiences to be released in the coming years.
They of course worked with Google Cardboard on an episodic VR experience for Star Wars: The Force Awakens called "Jakku Spy." But that experience was more of a fun experiment compared to what's planned for the future.
Star Wars VR Experiences Will Help Tell The Future of Star Wars
Williams explained that the Lucasfilm Story Group has mapped out the next half dozen years of Star Wars stories and beyond, and they are already developing experiences — some which will be available in VR, others in other platforms — that will intersect with the stories we will see on screen.
The most interesting bit is that they plan to work with big-name filmmakers and top screenwriters on these future virtual world Star Wars experiences. ILM claims that top filmmakers are excited to get involved and tell stories using this new 360-degree medium. The filmmakers involved in the movies will have involvement in the VR experiences that coincide with their movies, as will some creatives from the world of video games that have more experience in interactive storytelling.
When asked, ILM was unwilling to commit to any release dates or VR platforms. Also, they said that the projects were currently in development with no directors or writers officially on board at this time, although it was strongly hinted that some were flirting with the idea.
Disney wants to tell full narrative stories through VR, and the eventual plan is for these Star Wars VR experiences not to just act as supplemental marketing for the films but to eventually be their own category of entertainment which consumers will purchase (like video games). Exciting, eh?
Above is a short video I shot while I was experiencing Holo Cinema.
Holo Cinema Used On Rogue One And Episode 8
Holo Cinema and VR have already been used help the filmmakers of Star Wars: Rogue One and Star Wars: Episode VIII visualize virtual worlds that will appear in their films. Usually filmmakers will deal with concept art and animatics, and not fully see what these computer generated worlds look like until well into post-production. But now filmmakers can use Holo Cinema or VR to walk around an Star Wars planet that has yet to exist on film.
Gareth Edwards has also used Holo Cinema to help visualize some of the new alien characters we will see on screen in Star Wars: Rogue One. While I was in the Holo Cinema, I was able to walk around the virtual characters as if they were in the room with me. At one point, one of the ILM guys stood right next to C-3PO, and I could see how this kind of technology would help a filmmaker like Edwards get a sense of how these new alien characters might look scaled next to the human actors in the scene. They also have virtual cameras that allow them to see and plan various camera angles within the virtual worlds.
ILM says they are currently working with some big-name directors on current non-Star Wars film projects, using Holo Cinema to help visualize virtual environments prior to filming. They would not reveal any names, but I'm betting that Michael Bay has or will use this tech for Transformers 5 and that Holo Cinema will be used on future Marvel movies.
They also said that they are trying to make the tech more portable and easy to use on set so that filmmakers will have these tools at their disposal while they shoot their films. I remember being on the set of Real Steel where they were tracking the position of the cameras using motion tracking technology, which allowed them to insert crudely computer animated versions of the boxing robots inside the ring. This allowed the filmmakers to plan and shoot the action, rather than going off of rigidly planned concept art and animatics. But even then, most of the rough robot animation needed to be completed before the shoot.
Theme Parks and Multiple Viewers
While the ILM x Lab guys were unable to reveal any details, they did say that Holo Cinema could be used in theme parks like the upcoming Star Wars Land. Right now Holo Cinema only works with one viewer, but they would be able to expand an experience like this to multiple viewers through projectors with higher frame rates.
The set-up they have created allows the worlds and characters to be completely interactive or puppeteered as the visuals are rendered in real time. This means that this kind of technology could be used to allow theme park guests to interact in real time with Star Wars characters that couldn't be brought to reality through costumes, and worlds that are too big to be constructed practically. Again, they were not able to confirm that this technology will be used in Disney theme parks or publicly at all, but its just too cool not to. I can't imagine Holo Cinema will only exist in a room at ILM away from the public.