Producer David Heyman Discusses 'Fantastic Beasts And Where To Find Them'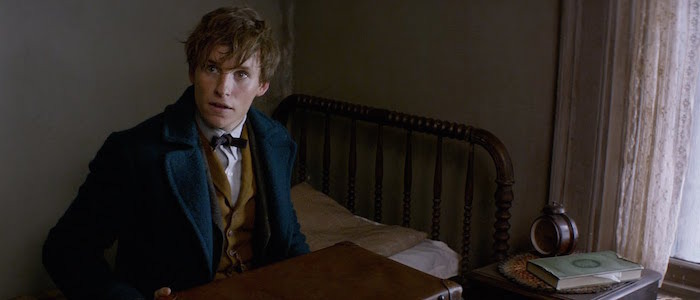 The teaser trailer for Fantastic Beasts and Where to Find Them was slightly underwhelming, but it did its job informing audiences they'll soon have the opportunity to return author J.K. Rowling's wizarding world. The first chapter in the planned trilogy opens in theaters in less than a year, but according to producer David Heyman, they're approaching these movies one picture at a time.
After the jump, David Heyman discusses Fantastic Beasts and Where to Find Them and a potential adaptation of The Curious Incident of the Dog in the Night-Time.
Fantastic Beasts and Where to Find Them follows Newt Scamander (Eddie Remayne) and is set in New York, during the 1920s. Rowling wrote the script, based on her book for "first-year Hogwarts students." Speaking with The Hollywood Reporter, Heyman discussed how the project came about:
"It was exciting to move on and to embrace new challenges with Gravity and Paddington, but when it finished, there was a not-insignificant sadness because [the Potter films] had been such a big part of my life. Jo Rowling created such an incredibly rich and deeply conceived world. What you read in the books is in some ways just the surface of this world. I'd ask her about the [character Sirius Black's] family tree because we had to paint it on the wall [for Harry Potter and the Order of the Phoenix], and the book only had two names, and half an hour later I'd receive a family tree going back six generations with 100 people. I'm sure Newt Scamander and his story have been in her mind for many years. We were sitting around wondering what else we could do in this world, and [producer] Lionel Wigram, who is the person I first brought the first [Potter] book to, thought about maybe doing a documentary about Newt. That idea was floated to Jo, and she responded to doing a film about [that character]."
I interviewed Heyman for the release of Gravity, and it was obvious that he both missed and cherished the experience of making the Harry Potter films. Will he go on a similar journey with Fantastic Beasts and Where to Find Them? According to Heyman, he's not too preoccupied with the sequels at the moment:
"We've talked about making a couple, but with all these things — and this may be a failing of mine — I don't look at them as franchises; I look at them as films. We want to make each film as good as we can because if you don't, you won't have a second film or a third."
We've all seen movies fall into that trap. Seeing a mediocre film tease a sequel at the end, especially so blatantly, is off-putting. It's incredibly doubtful Fantastic Beasts and Where to Find Them won't be a massive success, so why worry about setting up sequels when a sequel is almost guaranteed?
Another journey Heyman may take audiences on is a film adaptation of The Curious Incident of the Dog in the Night-Time. A stage version of Mark Haddon's 2003 best-selling novel has been a real hit, and it was only a matter of time before Haddon's moving book makes its way to the big screen. Heyman holds the rights to the novel and hopes the movie will happen soon:
I have the rights with Warner Bros. to "The Curious Incident of the Dog in the Night-Time," a wonderful book by Mark Haddon. Steve Kloves, who is such a brilliant writer and director, has been talking about it, but he's been so busy [producing] The Jungle Book and Fantastic Beasts. I'm hoping there will come a time before too long where that film will see the light of day because it's something that I love and moves me.
Heyman's promising line-up also includes, Paddington 2, a sequel I'm very much looking forward to seeing. That's another series with the potential to turn into a long-running franchise for Heyman.
Fantastic Beasts and Where to Find Them opens in theaters November 18th.