Sony's 'Popeye' Moves Forward With 'Ratchet And Clank' Writer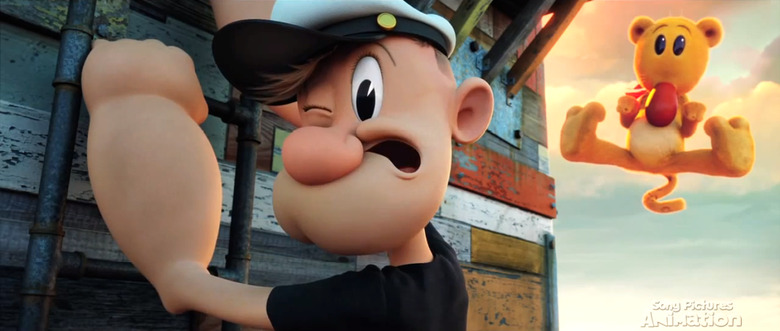 Sony Pictures Animation's Popeye took a big hit when director Genndy Tartakovsky walked away in March of last year, after years of development. But now the studio is preparing to move forward again, with a new writer: Ratchet and Clank writer T.J. Fixman (Ratchet and Clank). 
Deadline broke the news. Fixman is one of the writers behind the Ratchet and Clank video game series, as well as the animated movie adaptation due out this spring. Last fall, he signed a deal with Hasbro Studios to serve as a creative consultant across all brands as the company continues to build upon its slate of film, TV, and digital projects. He additionally has several scripts in development around Hollywood, including The Men Who Kill at Fox, Generation Heist at Tristar, and Gargoyles at Disney.
Popeye first began in 1919 as a comic strip by E.C. Segar. Over the past century he's also starred in comic books, cartoons, radio serials, and video games. He got his own live-action movie in 1980, with Robert Altman directing and Robin Williams starring. The film got mixed reviews and was considered a disappointment by its studio, Paramount, but the spinach-loving sailor man remains a recognizable icon around the world.
Sony has been trying to get a new Popeye movie off the ground for years. The project started to look pretty promising when Tartakovsky signed on to direct in 2012, but he dropped out last year citing, essentially, creative differences:
We made a version that we were happy with, and the studio didn't like that version. It's still a mystery for me that they didn't like that version. They wanted to do "Popeye" for the brand recognition and I loved the character and grew up with it, so there was a tug of war. They wanted it really updated, and I can only update it a little before it isn't "Popeye" anymore. To be truthful, it was in the middle of the Sony hack and the studio was really struggling. It was just really bad timing.
Tartakovsky didn't get much more specific about what, exactly, it was that Sony wanted to change about his Popeye movie, and in any case it's unclear what new direction they might take with Fixman. The film does not currently have a director or a release date. In the meantime, you can revisit Tartakovsky's test reel and think about what might have been.