Saoirse Ronan To Star In Greta Gerwig's Directorial Debut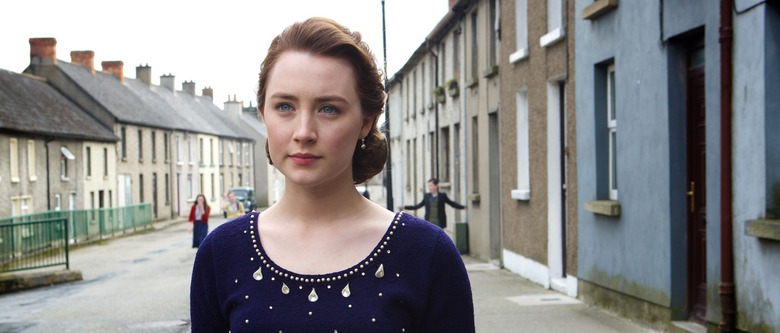 At 22, Saoirse Ronan has already built up a career to be envied. She's worked with the likes of Joe Wright, Wes Anderson, and Peter Jackson, and she's just snagged her second Oscar nomination for Brooklyn. Now for her next big-screen role, she'll be teaming up with another hot young talent. Ronan is set to star in Lady Bird, the solo directing debut of Greta Gerwig. 
According to Deadline, who broke the news, Lady Bird follows a high school senior over her last year at home in Sacramento. Gerwig, whose writing credits also include Frances Ha and Mistress America, penned the script. The coming-of-age tale should be right in Gerwig's wheelhouse, especially given that Gerwig is herself a Sacramento native. And Ronan proved remarkable as a young woman coming into her own in Brooklyn, so she seems like an ideal choice to bring Gerwig's tale to life.
Powerhouse producer Scott Rudin is on board f0r Lady Bird, along with producers Eli Bush (The Grand Budapest Hotel) and Evelyn O'Neill. Lady Bird will shoot around Ronan's schedule, as she prepares to make her Broadway debut in The Crucible this spring. (That one is also a Rudin production.) Ronan has recently wrapped an adaptation of Anton Chekov's classic play The Seagull, which also stars Corey Stoll and Elisabeth Moss.
Gerwig was most recently seen in Mistress America. She hit the festival circuit last year with Maggie's Plan, which opens in theaters this May, and will do so again this year with Todd Solondz's Welcome to the Dollhouse sequel Wiener-Dog. She is now shooting Jackie, the Jackie Kennedy biopic which has Natalie Portman playing the former First Lady. Although Gerwig previously co-directed Nights and Weekends with Joe Swanberg, Lady Bird will mark her first time directing by herself.
Finally, this has nothing to do with anything but it's Friday and we could all use a reminder of how very delightful Ronan can be... so here she is describing her favorite sex scene (spoiler alert: it's from MacGruber.)