Cancer Comedy 'Other People' Turns Jesse Plemons Into A Viable Leading Man [Sundance Review]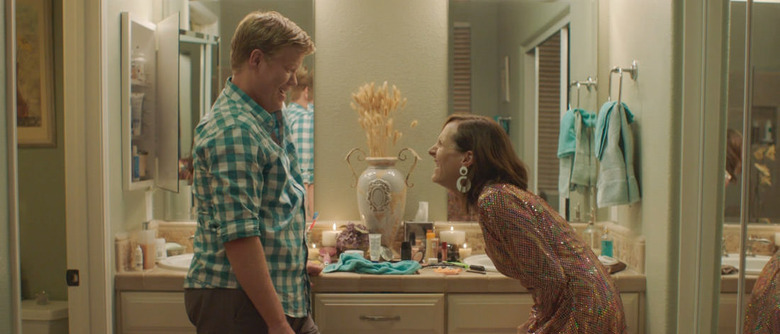 On paper, Other People sounds like the most stereotypical of Sundance movies: it's a semi-autobiographical indie dramedy (check) about a gay New York writer (check, check, check) who returns to his hometown (check) to care for his dying mother (bingo!). But in practice, every element is so well executed that the film itself feels like something special.
Said gay New York writer is David, played by Jesse Plemons in his first feature lead role, and the film makes a strong case for giving him more such parts. His performance isn't especially showy, but he's got an unassuming everyman charisma that makes him effortlessly watchable. 
Comedy and tragedy can be tough to blend, especially when it comes to a topic as heavy as cancer (the disease afflicting David's mom Joanne, played to perfection by Molly Shannon). But Other People maintains that balance better than most. There are plenty of laugh-out-loud moments, many of which are intermingled with sob-out-loud moments. It helps greatly that first-time director Chris Kelly maintains a low-key, naturalistic vibe throughout. When a sad moment yields some laughs, or a funny moment gives way to a tearjerking one, it doesn't feel like he's pulling the audience from one extreme to another. It just feels like the way sad and funny actually do mix, all the time, in real life.
Kelly has an eye for detail and an ear for dialogue that make Other People instantly relatable. David's childhood home might not look exactly like your childhood home, and his family might not talk exactly like your family, but to me, they felt just like my childhood home and my family. It helps, too, that Plemons isn't done up to look like your typical blandsome leading man. For that matter, neither does anyone else in this cast. These characters look like real people, not like Hollywood approximations of real people. There's a sex scene that feels quietly revelatory in the way it exposes imperfect bodies matter-of-factly, without playing them for laughs.
That same frank attitude extends to the film's treatment of David's sexuality: as an important part of who he is, but not as the defining feature. While the movie mainly focuses on David's relationship with his mother, David's loneliness following his recent breakup with Paul, and David's father's (Bradley Whitford) inability to accept his son's homosexuality are major subplots.
Kelly, no doubt well connected from his many years working at shows like Saturday Night Live and Broad City, brings in plenty of familiar faces from the comedy world to fill out the cast. Matt Walsh (Veep), Retta (Parks & Recreation), and Lennon Parham (Playing House) are a few who make appearances, while Zach Woods (Silicon Valley) has a slightly more substantial supporting role as David's ex-boyfriend Paul. But the real standouts in the ensemble are two actors I'd never seen before: John Early, who plays David's friend Gabe, and especially Glee alum J.J. Totah as Gabe's irrepressible younger brother.
The title of the movie comes from a line in which David notes to Gabe that the tragedy unfolding around him feels like something that happens to "other people." Gabe, having already gone through a similar experience with his own mother, points out that to other people, David is other people. It's not the most original observation in the world, but then again David's not in the most original situation in the world. His is an ordinary story, but one that feels uniquely painful and powerful when it's happening to you. Kelly's accomplishment is that he makes the "other people" — the kind of people to whom these kinds of things happen — feel like us.
/Film rating: 8.0 out of 10.0