The 'Die Hard' Prequel May Tell You Everything You've Never Needed To Know About John McClane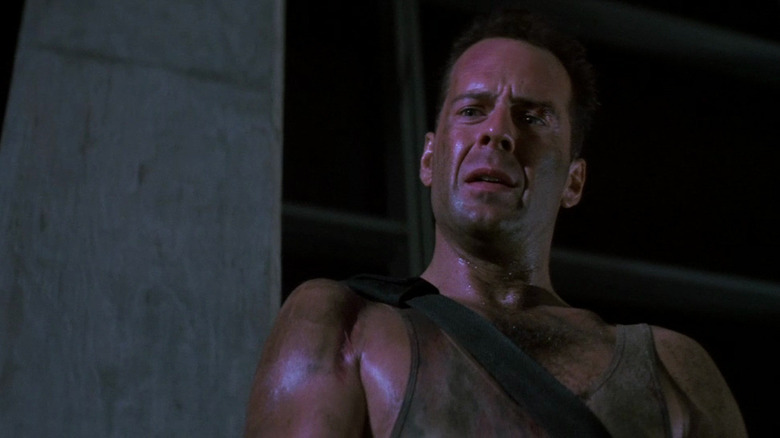 What's with all the origin stories these days? Are audiences asking for them? Do studios think movie fans want their favorite characters demystified and explained to death? Isn't a character's behavior enough to illustrate where they've been and what they've seen? Apparently not, which is why we hear so much news about origin stories and prequels. One of the most notable "untold stories" we'll see soon is Die Hard Year One, a prequel/sequel fans have been weary of ever since it was announced.
Below, director Len Wiseman explains his approach to the Die Hard prequel.
Last week, the Live Free or Die Hard director explained a bit about the film to us, clarifying that series star Bruce Willis will have a prominent role. Die Hard Year One will be set in the modern day and 1978, with Willis, of course, acting in the modern day scenes.
In an interview with Collider, Wiseman said he and Willis started thinking about the character's past while making the fourth Die Hard film:
After doing the fourth one, there were so many conversations that Bruce [Willis] and I were having about what he put into the character for Die Hard 1. That character comes in with so much baggage, emotionally, and experience. He's already divorced, he's bitter, his Captain hates him and doesn't want him back. So, what created that guy?
Wiseman continued, adding that we'll most likely see a love story in the picture:
We've never seen the actual love story. We know its demise, but we've never seen what it was like when he met Holly, or when he was a beat cop in '78 in New York when there was no chance of him making detective. It's always been something I've been thinking about, and now we're doing it. And it ties in.
Why do we need to see the love story, though? Does anybody watch Witness and say, "I really want to know why Harrison Ford's John Book got divorced?" Probably not. Backstory is often redundant, and more than that, we don't need to know why McClane's marriage fell apart. In the first Die Hard, you could get a sense of why this guy wouldn't have the greatest marriage.
Another challenge for Die Hard Year One? Casting a young John McClane:
It has to be somebody that has the swagger and the confidence, but also the charm, the wit, the charisma and the toughness. It's asking a lot, especially in somebody that's younger. It has to feel like the guy owns it, rather than is trying to put it on.
The Han Solo spin-off faces a similar hurdle. Hollywood just doesn't make stars like Bruce Willis and Harrison Ford anymore. Very few young actors have their charisma and swagger. Whoever they do cast in these roles will then have to walk the fine line between impersonation and embodiment.
To be fair, Wiseman did a fine job with Live Free or Die Hard. The franchise isn't in the best shape at the moment, following A Good Day to Die Hard, so perhaps taking the series in a new direction isn't such a bad idea, but, at the moment, there's plenty to be skeptical about with Die Hard Year One.