'Suicide Squad' Composer Announced; The Joker Has A "Pageantry" To Him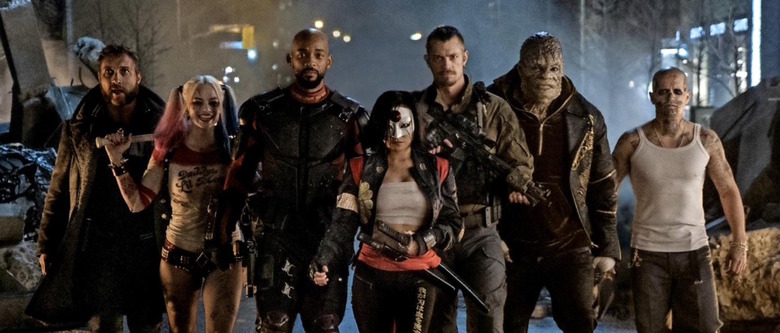 The buzz for Suicide Squad was initially unremarkable. Our first glimpse at the film was a shot of Jared Leto as The Joker, which most fans didn't seem to care for. With the grill and the "edgy" tats, fans weren't fond of where director David Ayer was taking the character. But once they saw the villain in action, especially in the latest trailer, fans warmed up to Ayer's "worst superheroes ever" picture. The film is now exhibiting even more signs of promise, as it has enlisted composer Steven Price.
Learn more about the Suicide Squad composer and the Joker after the jump.
Price and Ayer have collaborated before. I wasn't a fan of Price's overly aggressive score for Fury, but he's an excellent choice for this project. His scores heightened the energy we saw in Attack the Block and The World's End. Price also scored Gravity (for which he won an Academy Award), an incredibly intense piece of music. He has a lot of range as an artist, which is probably the type of composer needed for Suicide Squad. Price is capable of both playful and intense scores — a balance that should suit the film just fine.
Warner Bros. has come out swinging this week with Suicide Squad, releasing posters, the trailer, and having Ayer out there hyping the film. What still seems to be driving the conversation around Suicide Squad is Leto's take on The Joker, and Ayer discussed it with USA Today:
This iteration of him, people will realize there really is a continuity of history — there is a lot of respect for what the Joker represents, who he is as a character. He is the best known villain in fiction so there's an incredible responsibility there to also be faithful to what he is but at the same time push him into this next world, next time, next phase.
Leto stayed in character during principal photography. Ayer added "there was almost a pageantry to him, which did translate into the character and the power on screen he has." Leto certainly is holding nothing back in the role. The more we see of him as the Joker, the more deranged and fun he looks.
Here's the official synopsis for Suicide Squad:
It feels good to be bad... Assemble a team of the world's most dangerous, incarcerated Super Villains, provide them with the most powerful arsenal at the government's disposal, and send them off on a mission to defeat an enigmatic, insuperable entity. U.S. intelligence officer Amanda Waller has determined only a secretly convened group of disparate, despicable individuals with next to nothing to lose will do. However, once they realize they weren't picked to succeed but chosen for their patent culpability when they inevitably fail, will the Suicide Squad resolve to die trying, or decide it's every man for himself?
Suicide Squad opens in theaters August 5th.