'Legends Of Tomorrow' Finds Its Jonah Hex In 'Ray Donovan' Alum Johnathon Schaech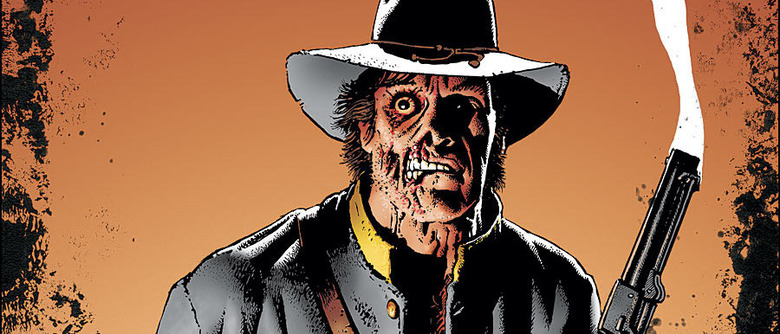 The last time Jonah Hex was brought to life onscreen, it was a disaster. Despite the best efforts of lead actor Josh Brolin, 2010's Jonah Hex was an out-and-out failure. Critics detested it, and audiences had absolutely no interest in it. In the end, the paltry $11 million box office haul ensured this version of Jonah Hex would be dead and buried and gone forever.
Still, the character himself, who originated in the DC Comics universe, was plenty popular before that cinematic fiasco, and remains that way among comic book fans. So The CW's going to bring him back in a different form. Jonah Hex is set to drop by the network's upcoming superhero series Legends of Tomorrow, and actor Johnathon Schaech has just been tapped to play him. 
Schaech confirmed the news on Instagram.
What the HEX? http://www.ew.com/article/2016/01/19/legends-tomorrow-johnathon-schaech-jonah-hex Thank you @thecw @cwtheflash @cw_arrow @cw_legendsoftomorrow @dccomics @dc.comics @dcentertainment #jonahhex
Introduced in 1972, Jonah Hex is a Civil War soldier who becomes a bounty hunter. A gifted marksman, he's prickly and cynical and bears the "mark of the demon" — a large, disfiguring scar on one side of his face — but he nonetheless abides by a strict moral code to protect and avenge the innocent. Jonah Hex will make his Legends debut in episode 11, according to HitFix, and has the potential to become a recurring character. Here's how The CW describes the Legends version of the character:
A true legends of the Old West, a morally ambiguous gunslinger with a penchant for danger. Surprisingly, he knows a thing or two about time travel and the future, but is at home in the Wild West. He's been battling outlaws and gangs for awhile now, and advises the team to be extra careful when they arrive in the small town of Salvation.
Said Legends of Tomorrow executive producer Marc Guggenheim:
Ever since we decided that Legends would involve time travel, we were eager to do a story set in the Old West. But if you're going to do a story set in the DC Universe version of the Old West, you simply must include Jonah Hex in it. We're thrilled about bringing another well known, beloved DC character to television.
Schaech has a long list of credits under his belt including the shows The Client List, Ray Donovan, and Quantico and films like That Thing You Do! and The Legend of Hercules (the Kellan Lutz one, not the Dwayne Johnson one). Besides Brolin, Thomas Jane and Adam Baldwin have also portrayed the Wild West antihero in various animated adaptations.