'Narcos' Producer On Pablo Escobar's Future, And Possibilities For Season 3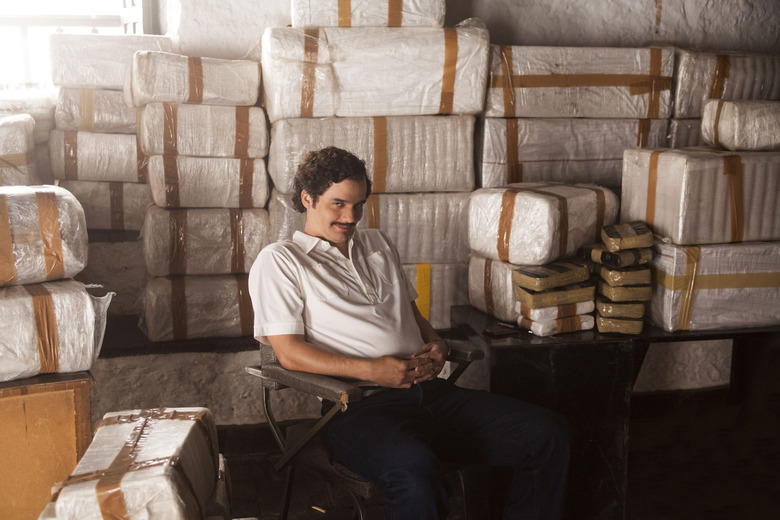 Netflix presented a panel on Narcos, their historical drama about Pablo Escobar, with Eric Newman representing the producers of the show. He and José Padilha remain from season one, with new producers joining the production. Prior to the panel, Newman spoke with reporters in a roundtable about the second season of the show, currently in production. He confirmed some key details about the plot of season two, and speculated on the possibilities for season three. (Be warned there are spoilers ahead for season two, if historical events can be considered spoilers.)
One thing is for sure, season two will cover the end of Pablo Escobar (Wagner Moura)'s life. "Trust me, if we could find a way to keep him alive and keep Wagner on the show..." Newman lamented. "He will die. The design of the show is we told 15 years of history in season one. At the point of Escobar's escape which is the summer of 1992, Escobar has 18 months to live. That's not something we can change. To stretch that out beyond another season would be disingenuous of us. That story was always designed to have an ending."
Narcos will continue, however. Drugs didn't end with Pablo Escobar and neither will the show. "There are any number of things that can happen after. We have not committed to one or the other. Obviously there are a lot of other stories in this world that continue on beyond him. In some ways, for me, what they've done with Homeland after losing Damian Lewis after season three is sort of amazing. To tell you the truth, most of my thinking is about season two because we're in the middle of it and I haven't thought that much about where do we go from here. I just want the best version of season two."
There have been some changes to Narcos, and not only to the staff. "The first season was such a joy working in Colombia," Newman said. "Production hasn't changed that much. The first season was a lot of information, a lot of setup. We need to tell you about this world. Now that we're in the world, we can spend more time with the people in the world and the characters. So I would say that season two is more character driven. Less voiceover I hope."
Despite the staff turnaround, Newman and Padilha remain the top of the Narcos pyramid. "Really José and I have still maintained control of the show. We had a great partner last year in Chris Brancato and then we began the season with a great writing partner who did what we had hoped he would do, which was helped focus us. The show is exactly what we want it to be and very much takes into consideration what we felt worked last season, and areas we wanted to improve on a production basis. It is very much the show we want."
Any talk about future drug trafficking stories is still speculation at this point. However, the suggestion of Mexican drug trade got Newman thinking. "You can go to the civil war in Guatemala where American trained soldiers who made their way to Mexico and introduced a new level of violence," Newman said. "The amazing thing about Mexico, and it's kind of staggering to think of it, is this level of violence that's going on now was also the reforms, police reforms. All of a sudden, the police were being held accountable for things that they had done under the PRI for many years that they now could be prosecuted for. Cops realize we're going to get in trouble for things we did then, we may as well go work for the traffickers and actually get paid. It's incredibly complicated and amazing and would be a phenomenal TV show."
Narcos is currently in production on a second season.