'Barbershop: The Next Cut' Trailer: Ice Cube And His Crew Save Chicago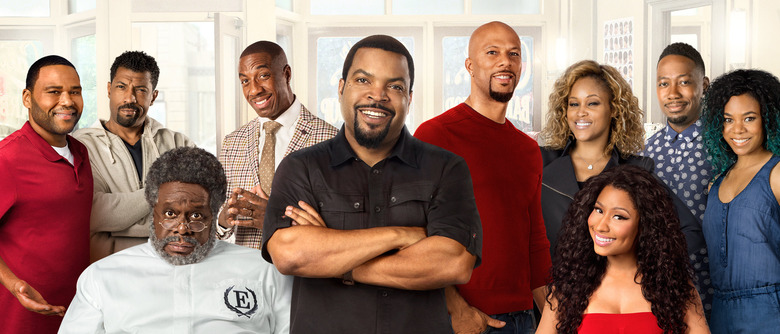 For a few years in the 2000s, the Barbershop franchise was a pretty big deal. The first film, released in 2002, was warmly received and made back many times its budget. Naturally, a sequel followed in 2004, and then a spinoff (Beauty Shop) and a TV show in 2005. The series sputtered out after that, but because we live in a universe where no franchise ever really stays dead anymore, it's back this year with a mix of familiar and new faces.
Ice Cube returns as Calvin, who still runs his eponymous barbershop in the South Side of Chicago. The business has expanded to include a beauty shop within its walls, but the neighborhood outside the store has changed even more, and not for the better. Calvin and his friends — including those played by Common, Regina Hall, Anthony Anderson, Lamorne Morris, Eve, and Nicki Minaj — must come together to save the neighborhood. Watch the new Barbershop: The Next Cut trailer after the jump. 
Comedies that tackle hot-button issues walk a tricky line. Get too silly and you run the risk of trivializing a serious issue; get too serious and your comedy might no longer be a comedy. But we seem to be in good hands here. Among other things, Barbershop: The Next Cut has a script by Tracy Oliver (Awkward Black Girl) and Kenya Barris (Black-ish), who have plenty of experience bringing the funny while facing racial issues head on.
The Barbershop: The Next Cut trailer brings back the cozy, jokey camaraderie that made the earlier installments so popular, and the gang violence storyline makes the film look fresh and relevant while adding a strong undercurrent of emotion. Not bad for a comedy franchise that began over a decade ago.
Directed by Malcolm D. Lee (The Best Man Holiday), Barbershop: The Next Cut arrives April 15. See the official synopsis and poster below.
It's been more than 10 years since our last appointment at Calvin's Barbershop. Calvin (Ice Cube) and his longtime crew, including Eddie (Cedric the Entertainer), are still there, but the shop has undergone some major changes. Most noticeably, our once male-dominated sanctuary is now co-ed. The ladies bring their own flavor, drama and gossip to the shop challenging the fellas at every turn. Despite the good times and camaraderie within the shop, the surrounding community has taken a turn for the worse, forcing Calvin and our crew to come together to not only save the shop, but their neighborhood.