Rumor: Eva Mendes Getting Her Own 'Fast And Furious' Spinoff?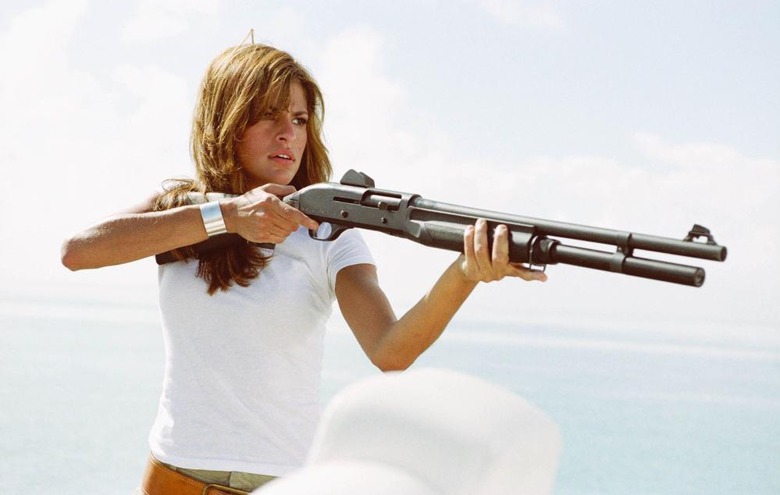 Universal doesn't want their Fast & Furious franchise to end anytime soon. Fast & Furious 7 made over $1.5 billion dollars at the box office, and even aside from the money, this series shows no signs of slowing down. Director Justin Lin raised the bar with Fast Five, making these movies more popular than ever before. Understandably, Universal wants to keep the brand going outside of the main franchise, and they may plan on doing that with spinoffs.
A new rumor indicates Monica Fuentes (Eva Mendes) will return for Fast & Furious 8, following her brief post-credits cameo in Fast Five and possibly ahead of her own spinoff film. Learn more about the potential Fast and Furious spinoff after the jump.
We Got This Covered is reporting the studio might want Mendes to star in her own film. According to their source, actor Vin Diesel and director F. Gary Gray (Straight Outta Compton) first want to see how audiences respond to her character in Fast & Furious 8, to see if she's a potential option for a spinoff.
A few months ago, Diesel teased the series branching out:
We've written out story lines for various characters. We've been playing with it for a long time. It's a very rich property and we're committed to treating it with a lot of class.
And Universal Pictures chairman Donna Langley had this to add:
We're certainly in conversations about how we can expand the franchise now. It's an ensemble cast and there's room to bring characters in and out.
It's been almost 13 years since 2 Fast 2 Furious – the most underwhelming entry in the series. I haven't seen the John Singleton-directed sequel in years, so maybe I'm wrong, but is Monica Fuentes a fan favorite? If not, perhaps Gray could turn her into one with Furious 8.
Now, spinoffs starring, say, Han Seoul-Oh (Sung Kang) or Luke Hobbs (Dwayne Johnson), two undeniable fan favorites, are movies I would want to see. We didn't get enough of Hobbs in the last sequel, but he's returning for the next film, and hopefully in a more substantial part. Speaking with Screen Rant, Johnson certainly sounded open to the idea of solo film for Hobbs:
We all are interested in it. I just had a big conversation with the studio. So we'll see. I still think for me personally we've created a little bit of space for him in 7 and the gauge is set for what the audience will want. That's my take on it, you know, but a lot of other people have to have input.
Furious 8 opens in theaters April 14th, 2017.