'Star Wars Rebels' Trailer Teases Possible 'Force Awakens' Connection And Shocking Return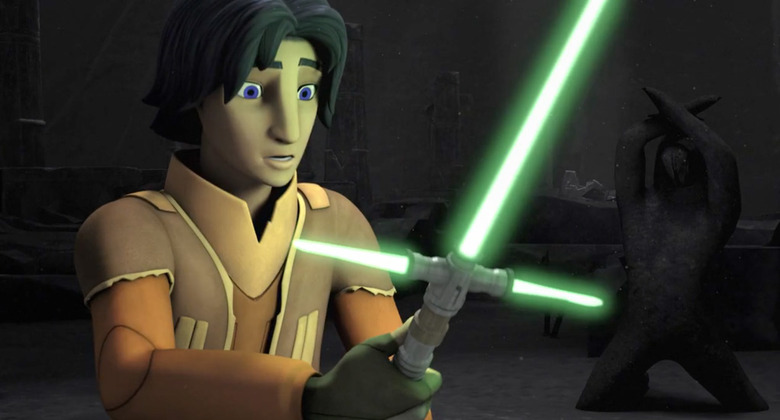 Disney has released a trailer for Star Wars Rebels, which will be return from a mid-season break on January 20th 2016. I know a lot of you are excited coming off Star Wars: The Force Awakens but have probably not dipped your toes into this DisneyXD series, but you should beccause its a lot of fun (and this comes from someone who could never get into Clone Wars). And its not too late to binge watch and catch up as the episodes are generally only 22 minutes long.
The Star Wars Rebels Season 2 trailer shows us a glimpse at the final six episodes of this season. But probably the most interesting image in the trailer is of Ezra Bridger igniting a cross guard lightsaber, which is similar to the one wielded by Kylo Ren in Star Wars: The Force Awakens. Of course, its not Kylo Ren's lightsaber (this one is green and seems to be of a sturdier construction) but it seems like this might be the first hint that the series will have connections to the upcoming films.
The creators of Star Wars Rebels have hinted for some time that there could be some kind of crossover or set-ups with the live-action films. While I don't expect any of the animated characters to crossover to the live-action films, its possible. Its more likely that Rebels could be used to help fill out the mythology and background of what we see in the films, for instance, maybe we'll learn the history of the crossgaurd lightsaber in Jedi mythology. It now seems like Kylo Ren isn't the first force user to have a lightsaber of that design.
Star Wars Rebels Season 2 Trailer
Watch the Star Wars Rebels Season 2 trailer below:
In the first half of Star Wars Rebels season 2, Ezra learned about the fate of his parents, and begun to feel the pull to the Dark Side of the Force. As Ezra's Jedi abilities continue to grow, it seems the dark side will become a bigger temptation. The new Inquisitors seem to be making things harder for the growing Rebellion. This teaser also confirms the appearances of legacy characters like Princess Leia, Darth Vader, Yoda, Anakin Skywalker.
At one point we see Ezra with a Sith holocron. What might the young Jedi be looking for? He is approached by a hooded and mysterious man who says he should be called "Old Master."
Possible spoilers coming up...
Ready for it?
You sure?
The markings on his face appear to reveal the man as prequel trilogy Sith apprentice Darth Maul, but is it? Could Darth Maul be involved in the Knights of Ren somehow? Unlikely, but we'll have to see how this plays out. Certainly if Maul is still around years before A New Hope, then he has been a Sith living in secret for years.