Martin Scorsese And Cameron Crowe Remember Their Time With David Bowie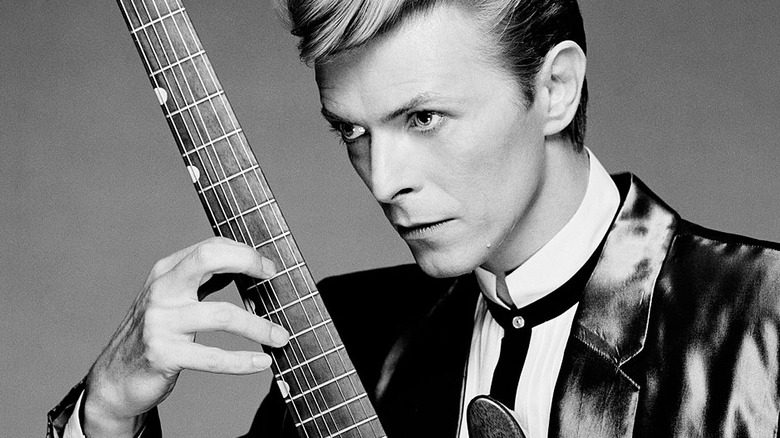 This week we lost two great artists far too soon. On Sunday night, we were saddened by the loss of actor and musician David Bowie. Today, we heard about Alan Rickman's passing. The two men were beloved, and so far we've seen nothing but an outpouring of passionate responses to the legacies they leave behind.
Ahead you can read directors Martin Scorsese and Cameron Crowe remember David Bowie and the time they spent with him.
Scorsese collaborated with Bowie on The Last Temptation of Christ. Bowie, who was famous for his variety of iconic looks throughout his career, completely disappeared in the role of Pontius Pilate, shedding any preconception you had of him as a performer. Here's what The Last Temptation director had to say about David Bowie to EW:
It's a shock to think that David Bowie is gone. He was one of those extraordinary artists that come along so rarely. There's a song on his album Low called 'Speed of Life,' and that's the speed at which he seemed to move — his music and his image and his focus were always changing, always in motion, and with every movement, every change, he left a deep imprint on the culture. I was a little taken aback when I met Bowie: he was such a quiet and concentrated and thoughtful man, and he was truly humble. We had the chance to work together on The Last Temptation of Christ, in which he appeared as Pontius Pilate, and for me it was sheer joy. He was a great artist and he left behind a remarkable body of work.
Crowe wrote a lovely tribute at his site, The Uncool. The writer and director called David Bowie the most "generous and entertaining interview" subject. Here's an excerpt from his recollection of the time he spent with Bowie:
To a young journalist in the mid-70s, David Bowie was the ungettable interview. He did not speak to the press. Still, through some cajoling from Ron Wood of the Rolling Stones and Glenn Hughes of Deep Purple, both of whom I'd previously profiled, David Bowie called me from a cross-country train trip. "I've left my manager," he said, "I'm traveling to LA. I'll call you when I arrive and we can do an interview." I followed him, with tape rolling, for 6 months as he transitioned from Young Americans to his next phase, The Thin White Duke/Station to Station period. It was somewhat of a primal scream phase for him. Careening through the Los Angeles underground, from studios to home galleries, he afforded me a front-row seat. "Let me show you how I write a song now," he told me one day, and then carefully demonstrated the cut-out method he'd adopted for that period. He was on his knees on his floor, moving clipped single pieces of papers containing lines he'd just written. Like a 3 card-monty street-corner magician, he shuffled together the words of a new song until it made just enough sense... and no more. The rest would be left to the listener.
Bowie was the most generous and entertaining interview subject I'd ever met. Nothing was off-limits. When he asked to meet you, it was rarely casual. You would be ushered into the room where he was waiting, and the artist would be perfectly positioned, his head cocked at the perfect angle to catch the light. It was not an affectation. He naturally staged himself, only to break out of such an iconic pose with a crackling smile and jaunty warmth. He loved Peter Cook and Dudley Moore's "What's the Worst Job You've Ever Had" routine, and knew it by heart, the same way he cherished a bootleg copy of the Jeff Beck Group at Detroit's Grande Ballroom... Bowie's creative process was both ferocious and meticulous, his love of music ran from Kraftwerk to The Spinners to hard jazz and classical, to a young fan, a songwriter who'd just finished his first album when he made a pilgrimage to Philadelphia just to meet him – Bruce Springsteen. We saw each other a number of times since, and he always made a reference to those wild years in LA. I was always tugging on his sleeve to act in something I'd written, too. A hugely underrated presence in film, I'd even been crafting a part for him as recently as this weekend.
You should head over to Crowe's site to read the rest of the post. At the end of the young journalist's time with Bowie, the musician was scribbled on a piece of paper and signed it for him, and he called it "a self-portrait":