'Homeland' Season 6 Will Head To New York To "Reinvent" Itself; Showtime Addresses That Cliffhanger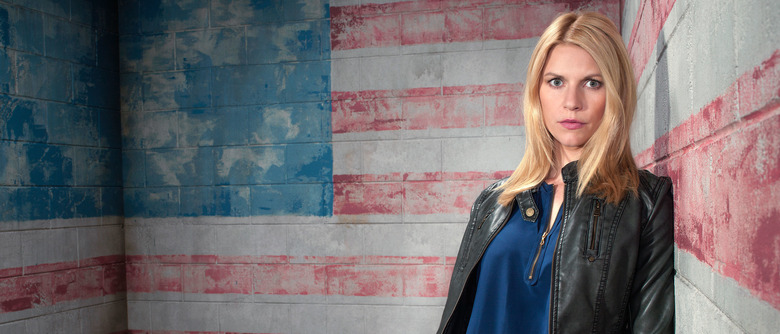 Homeland is coming back home. Following a fifth season filmed entirely in Berlin, the drama series is heading to New York City for its sixth season, as revealed by Showtime Networks president David Nevins at the Television Critics Association's press tour. "We wanted to do another America story," he said.
Just what shape our characters will be in, however, remains to be seen, especially after the dramatic developments of that fifth season finale. Hit the jump for more Homeland season 6 details. 
"Homeland will be shot next year in New York City, in and around New York," revealed Nevins at the TCAs. "It will be set domestically. It will be set primarily in the New York are, but not exclusively." Showtime programming president Gary Levine added, "We are in awe of how [showrunner] Alex Gansa and his writing staff reinvent Homeland each year. And I think it's exciting to see what they're going to do in bringing it back to the United States and reinvent it yet again."
Speaking afterward to EW, Nevins explained why they wanted to move the show back to the U.S.
[After setting the show in] Afghanistan, Pakistan and Europe, [we] wanted to do another America story. Also, I think the actors will be happy to be back in the U.S. For a year. I don't think it's necessarily going to stay there forever, but there was a strong interest in doing a domestic story from the creative team.
That doesn't necessarily mean the show will tackle hot topics like Donald Trump head on, but larger themes tied to the current political climate could conceivably make their way into the series. "They don't tend to [use] real people, but they tend to find themes that are real, so it's possible," acknowledged Nevins.
And then there's the matter of who, exactly, will be back next season. (Spoilers for the Homeland season 5 finale ahead.) The fifth season ended with Peter Quinn's life hanging in the balance, and Showtime isn't ready to reveal just yet whether Rupert Friend is returning. If he is, though, he'll definitely be worse for the wear.
"Quinn is severely damaged. There is no question about it," said Levine. "The life-or-death question remains. But if he should live, it will not be in any way, shape or form the way he has lived to date."