'Sing Street' Trailer: We Need To Form A Band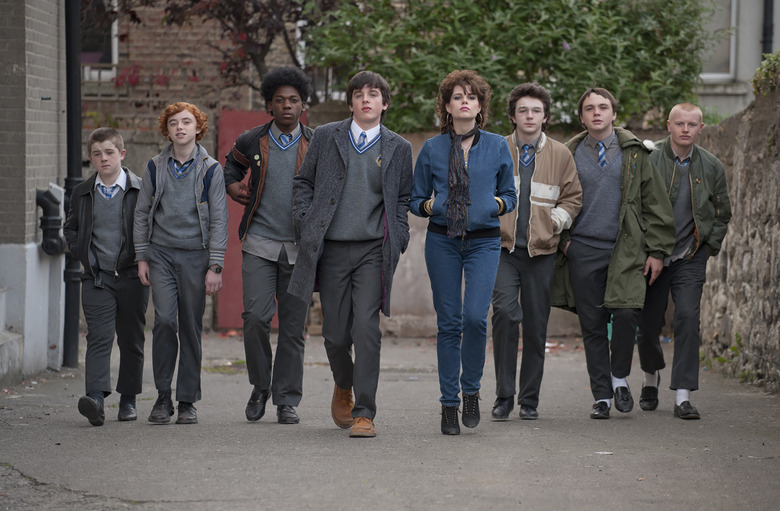 John Carney's second feature film, Begin Again, was a real success at the box-office, and because of that, it's probably why we're seeing his third feature, Sing Street, so soon. After his directorial debut, Once, we waited far too long for his sophomore effort. Thankfully, the wait is almost over for his next picture.
Watch the Sing Street trailer after the jump.
If you couldn't have guessed by now, based on the name of the film, music is a major part of Sing Street. Not only is Carney's picture about a kid that starts a band to impress a girl, but it also features a rather promising soundtrack, with tunes from A-Ha, Duran Duran, Hall & Oates, The Cure, The Clash, Spandau Ballet, and The Jam.
Here's the Sing Street trailer (courtesy of Yahoo! Movies):
Does it feel like we just watched the whole movie? Yeah, a little bit, and hopefully there are still some surprises in store, but that doesn't stop this Sing Street trailer from being completely delightful. With the music, the kids, the Phil Collins joke, and more, Carney's film just looks like a ton of fun.
Jack Reynor is almost unrecognizable as the protagonist's brother. Say what you will about Transformers: Age of Extinction, but I think Reynor is going to be a big name somewhere down the line. He's very good in Macbeth and has Ben Wheatley's Free Fire coming up, so he's making strong choices, and Sing Street looks like one of them.
Here's the official synopsis:
SING STREET takes us back to 1980s Dublin from the eyes of a 14-year-old boy named Conor (Walsh-Peelo) who is looking for a break from his home strained by his parents' relationship and money troubles, while trying to adjust to his new inner-city public school where the kids are rough and the teachers are rougher. He finds a glimmer of hope in the mysterious, über-cool, and beautiful Raphina (Boynton), and with the aim of winning her heart he invites her to star in his band's music videos. There's only one problem, he's not part of a band... yet.
She agrees, and now Conor must deliver what he's promised – calling himself "Cosmo" and immersing himself in the vibrant rock music trends of the '80s, he forms a band with a few lads, and the group pours their hearts into writing lyrics and shooting videos.
Inspired by writer/director John Carney's (ONCE, BEGIN AGAIN) life and love for music, SING STREET shows us a world where music has the power to take us away from the turmoil of everyday life and transform us into something greater.
Sing Street premieres on January 24th at Sundance. The Weinstein Company will release the film later this year.