'Green Room' Teaser Trailer: Patrick Stewart Promises Things Won't End Well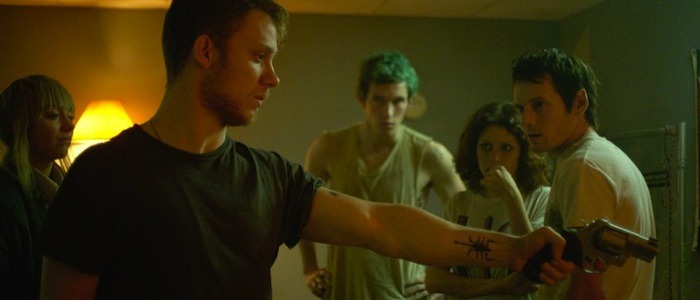 It's rough out there at the multiplexes right now, unless all you want is to watch Star Wars: The Force Awakens for the eighteenth time, but if you can hang tight for a few more months, some great films are just on the horizon. Like Jeremy Saulnier's Green Room. The thriller wowed on the festival circuit last year, and now it's on its way to a spring release date on the U.S. Watch the first Green Room teaser trailer after the jump.
Green Room centers on a punk rock band (played by Anton Yelchin, Alia Shawkat, and others) who get a gig at a sketchy club in the middle of nowhere. When they witness an act of violence committed by a white supremacist gang, they hole up in the club's green room as the neo-Nazis try to break in and kill them. The great, lovable Patrick Stewart gets to indulge his villainous side as the club's nasty owner, while the always strong Imogen Poots plays a bystander who gets mixed up in the events.
If you caught Saulnier's last film, Blue Ruin, we probably don't need to tell you that the guy knows how to craft one tense thriller. Watch the Green Room teaser trailer below.
A24 has Green Room set for a limited release starting April 1 followed by a nationwide expansion on April 15. Here is the official synopsis from A24.
Green Room is a brilliantly crafted and wickedly fun horror-thriller starring Patrick Stewart as a diabolical club owner who squares off against an unsuspecting but resilient young punk band.
Down on their luck punk rockers The Ain't Rights are finishing up a long and unsuccessful tour, and are about to call it quits when they get an unexpected booking at an isolated, run-down club deep in the backwoods of Oregon. What seems merely to be a third-rate gig escalates into something much more sinister when they witness an act of violence backstage that they weren't meant to see. Now trapped backstage, they must face off against the club's depraved owner, Darcy Banker (Stewart), a man who will do anything to protect the secrets of his nefarious enterprise. But while Darcy and his henchmen think the band will be easy to get rid of, The Ain't Rights prove themselves much more cunning and capable than anyone expected, turning the tables on their unsuspecting captors and setting the stage for the ultimate life-or-death showdown.
Intense, emotional, and ingeniously twisted, Green Room is genre filmmaking at its best and most original. Saulnier continues to build his reputation as one of the most exciting and distinctive directors working today, with a movie that's completely different from his previous, highly acclaimed Blue Ruin, but which is just as risk-taking and even more full of twists. The entire cast deliver first-rate performances, but Patrick Stewart gives a transformative and brilliantly devious turn as Darcy—elegant yet lethal, droll yet terrifying, Stewart makes the film simply unforgettable.