Amber Heard Swims Toward Jason Momoa's 'Aquaman'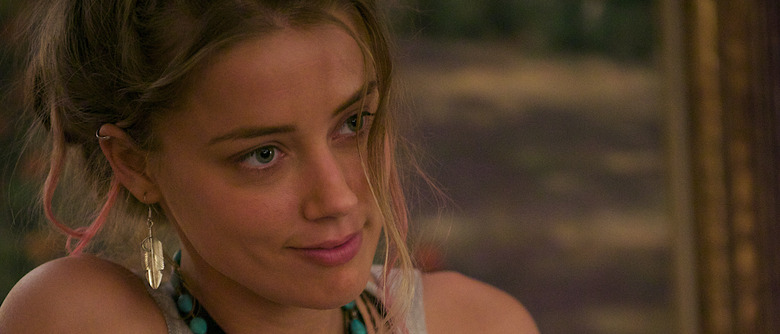 Jason Momoa's Aquaman may have the ability to talk to fishes, but a guy probably gets pretty lonely chatting with nothing but marine life all day. Fortunately, it looks like he'll have a more humanoid friend to keep him company down in the deep blue sea. Amber Heard is reportedly in talks to join the superhero adventure as Mera, who has some formidable powers of her own. 
THR breaks the news that Heard is in negotiations to join Warner Bros.' DC Extended Universe. If Heard closes her deal, she'll be the female lead opposite Momoa in the standalone Aquaman movie, which is being directed by James Wan for release in 2018. But first, she'll make her debut in Justice League: Part One, due out in 2017. (Part Two follows in 2019.) Mera, who first appeared in the comics in 1963, is a love interest to Aquaman. Her special skills include controlling water, with which she can even form "hard water" objects.
Heard currently co-stars in The Danish Girl with Eddie Redmayne and Alicia Vikander. She was also seen last year in Magic Mike XXL, and hit the festival circuit with the (apparently not very good) crime thriller London Fields. Her list of credits also includs Zombieland, Drive Angry, and Machete Kills, but she's still waiting to break through to the next level. A big, splashy (no pun intended) blockbuster like Aquaman seems like the logical next step.
Aquaman is currently in "dual track development," which means there are two competing scripts in progress right now. One comes from David Leslie Johnson, who worked with Wan on The Conjuring 2, while the other is being written by Kurt Johnstad, who wrote 300 for Justice League director and Aquaman producer Zack Snyder. Plot details are murky, but here's the official logline:
An icon for over 70 years, Aquaman is the King of the Seven Seas. This reluctant ruler of Atlantis, caught between a surface world constantly ravaging the sea and Atlanteans looking to lash out in revolt, is committed to protecting the entire globe.
Justice League: Part One begins shooting this spring for release on November 17, 2017. Aquaman follows several months later on July 27, 2018.