'Pearl Harbor' Honest Trailer: Ben Affleck's Heart Hurts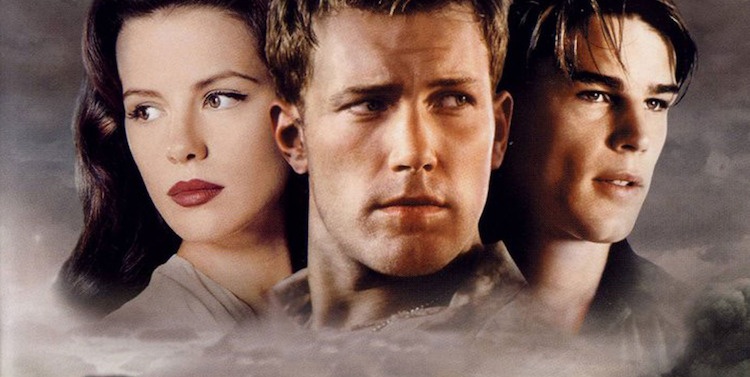 Even Michael Bay's most passionate fans rarely stand by Pearl Harbor. There are people out there that like the movie, but, unlike with the Transformers movies, you rarely get called an idiot online for not being a fan of Bay's 2001 epic. The film was new territory for the director, but it missed the mark, thanks to miscasting, some tone-deaf humor, and its glossy aesthetic. Which means it's ripe for getting ripped apart. After the jump, watch the Pearl Harbor honest trailer.
I remember seeing Pearl Harbor on its opening weekend, and I could hear sniffles in the audience, some of which were coming from my own brother... It was a packed house, too. The film isn't the disaster some write it off as. It did well at the box office and performed incredibly well on DVD, and, as aforementioned, some people actually really like this movie. After Roger Ebert ran his negative review of Bay's film, he got no shortage of hate mail for it. In no way am I defending the movie, just saying that Pearl Harbor has its fans.
This Pearl Harbor honest trailer, though, is right on the money:
People were asking these questions back in 2001: Why turn the story of Pearl Harbor into a romance? Why follow fictional characters? There have been plenty of fine sweeping romantic war epics made, but they require a very delicate hand — and Bay isn't exactly known for delicacy as a filmmaker. As shown time and time again by his sense of humor, especially in Pearl Harbor, his sensibilities are quite often broad.
That may change this week, though. The director's latest opens in theaters this week, 13 Hours: The Secret Soldiers in Benghazi, and so far we've heard mostly positive reactions to the film. In an interview with Collider, Bay told them the film is "not that stylized. I only wanted to go stylized in a few key moments," which sounds like the proper approach to that story. For Pearl Harbor, on the other hand, he said, "I don't change my style for anybody. Pussies do that." You can't ask for a more perfect Michael Bay quote than that.
The best part of Pearl Harbor isn't its technical merits, but the audio commentary from Ben Affleck and Josh Hartnett. That commentary track alone makes the DVD box-set worth buying, because it's almost three magical hours of Affleck poking fun at the film, himself, and his co-stars (ever wonder what Michael Shannon's toes looked like back in 2001?), while Hartnett just can't hold back his laughter. I've listened to that commentary more times than I've seen the film.