George Miller Says He Won't Direct Another 'Mad Max' Sequel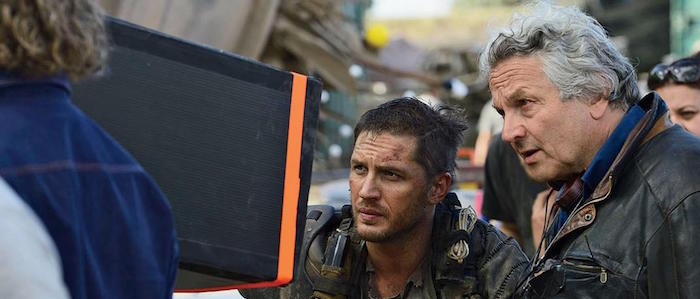 Mad Max: Fury Road was not an easy movie to make. Very few movies are, but last year's sequel had an especially bumpy ride to the big screen. Developed for over a decade and originally shot in 2012, director George Miller spent a lot of his time working on Fury Road, so it's understandable he wouldn't want to make another Mad Max film. Read Miller's comments on the Mad Max sequel after the jump.
This news is very surprising. Even well before Mad Max: Fury Road hit theaters, Miller was discussing his desire for more sequels. Unfortunately, while speaking with Page Six, the director said he's done with Max Rockatansky (played by Tom Hardy in Fury Road):
I've shot in Australia in a field of wild flowers and flat red earth when it rained heavily forever. We had to wait 18 months and every return to the US was 27 hours. Those 'Mad Maxes' take forever. I won't do those anymore.
Just the other day Miller reiterated he needed a break from the wasteland, mentioning his hope to make a much smaller film next:
I seriously would love to do something on the iPhone. It's really an interesting exercise. It's so available now, if you have something to say. It won't be on an iPhone, but it's leaning in that direction [...] I don't make many films. I have to really feel some strong gravitational pull both in the story and something to do with the technological shift. If there's a new tool or a new process, it's always very interesting [to me]. Yes, I have [thought about the Mad Max sequel]. And certainly having conversations about it. But I'm not sure if it's the very next movie I want to do. I've got something a bit smaller before we go back out into the wasteland — something that's contemporary that we can get through fairly quickly. And something with not too much technical difficulty. Something more performance-based and so on, just to clear the exhaust.
The script for one possible Mad Max sequel has already been written. Because the development on Fury Road took so long, Miller and his collaborators had the time to write both a script and a novelization for two potential sequels. If the director really doesn't make either one of them — he might have another change of heart, you never know — it's probable he'll remain involved in some capacity. This is George Miller's world, so to see him not be a part of it would be a shame.