Morgan Freeman Would Return For 'Bruce Almighty 2'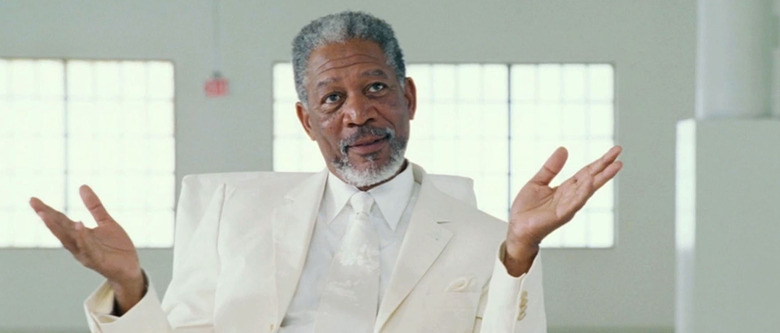 Morgan Freeman met with the press of the Television Critics Association after his appearance on The Late Late Show with James Corden. During the interview, /Film asked Freeman if he would return for Bruce Almighty 2. Freeman played God in the first film, and the spinoff Evan Almighty. 
"I think I would have to if they did it," Freeman said. "If Jim Carrey plays his character, and if I was called on, I would feel obligated."
After the success of Dumb and Dumber To, Jim Carrey has relaxed his previous stance on sequels and is said to be considering a return to Bruce Almighty. But back when Carrey was turning down sequels, the producers of Bruce Almighty, and director Tom Shadyac, developed the spinoff for Steve Carell's character, rival newscaster Baxter. Carell returned with Evan running for office and being called upon by God (Freeman) to build an ark for an impending flood. The film's comic recreation of the Noah story wasn't as well received as the original, which had Bruce (Carrey) learning that omnipotence isn't all it's cracked up to be.
A more direct sequel to Bruce Almighty was announced in 2012, but so far we haven't seen much progress on it.
Freeman also reprises his role in Now You See Me 2, the sequel to the magician heist movie. Asked why he returned to that role, at first Freeman joked, singing, "Money money money money."
Sincerely though, he felt the sequel lived up to the original so there was no objection on his part. "It's a really, really good movie," Freeman said. "It was a great movie, I think, Now You See Me, really outstanding. So there's no reason not to go back and do it again."
Freeman produces the CBS series Madame Secretary, which airs Sunday nights at 9PM on CBS.