Charlie Kaufman Wasn't Pleased With 'Confessions Of A Dangerous Mind'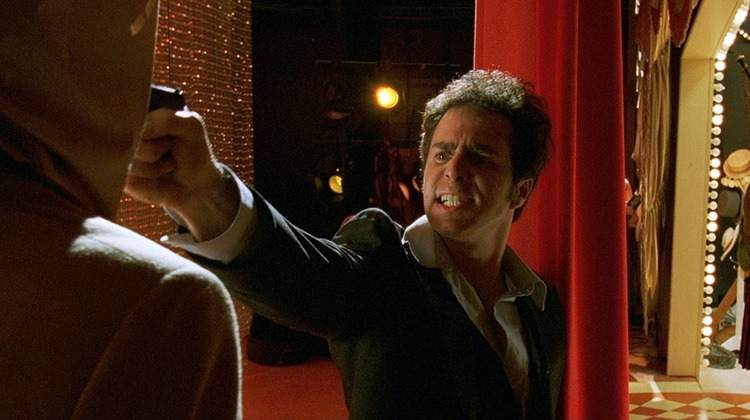 It's not an accident Confessions of a Dangerous Mind wasn't shown as last week's Charlie Kaufman retrospective. Although the Anomalisa writer and co-director received sole credit on George Clooney's directorial debut, he had very little involvement in the film, and he wasn't happy with the end result.
After the jump, read Charlie Kaufman's thoughts on Confessions of a Dangerous Mind.
I remember listening to George Clooney and cinematographer Newton Thomas Sigel's audio commentary for the film, and I was surprised that not once did Clooney even mention Kaufman. In the audio track, though, he mentioned a variety of changes he made to the screenwriter's work, both on the page and in post-production — which Kaufman wasn't a fan of.
On Marc Maron's podcast (via The Film Stage), Charlie Kaufman discusses Confessions of a Dangerous Mind:
I didn't like it. That was a movie in which I was not consulted. I mean, George Clooney changed the script, he didn't talk to me during production. We kind of didn't get along. I was invited to see the movie when he was pretty much done and I wrote a bunch of notes and gave them to him and I guess it was offensive to him.
With directors Michel Gondry (Eternal Sunshine of the Spotless Mind) and Spike Jonze (Adaptation), Kaufman didn't simply hand in his script and collect his check; he was very much involved. The Synecdoche, New York director never says too much about his apparently nonexistent collaboration with Clooney, but around the release of Eternal Sunshine of the Spotless Mind, he was honest about his brief experience on the film:
EMILY: How did you feel about the way Confessions of a Dangerous Mind turned out?
CHARLIE: I'm not happy with that movie. I wasn't involved in the making of it the director wasn't interested in things that I was interested in when I was writing the script. I think he had a different plan. I don't really want to have this conversation – I guess so but um, I wasn't involved in it.
EMILY: How come sometimes you're in control and other times you have to sit back like other Hollywood writers and say, "I sold the script – it's theirs now?"
CHARLIE: I didn't really sell it to them [in the case of CoDM]. I wrote a script that was an assignment. He came in and decided to become the director. It wasn't written for Clooney. It was a complete ten years, maybe ten years down the road — with a bunch of different directors attached at different times. Different stars — it was kind of like "the movie that couldn't get made."
In terms of screenwriters having their work butchered, I'd say Kaufman got off easy compared to other horror stories we've heard. Confessions of a Dangerous Mind — at least to me, maybe not Kaufman — is hardly an embarrassment to have your name on. It's an excellent film, and it's arguably still Clooney's best directorial effort. Kaufman's frustration, though, is completely understandable.
Kaufman's Anomalisa is now in theaters.