Kevin Smith To Direct An Episode Of 'The Flash', 'Vixen' Star Coming To 'Arrow', And More Updates From The CW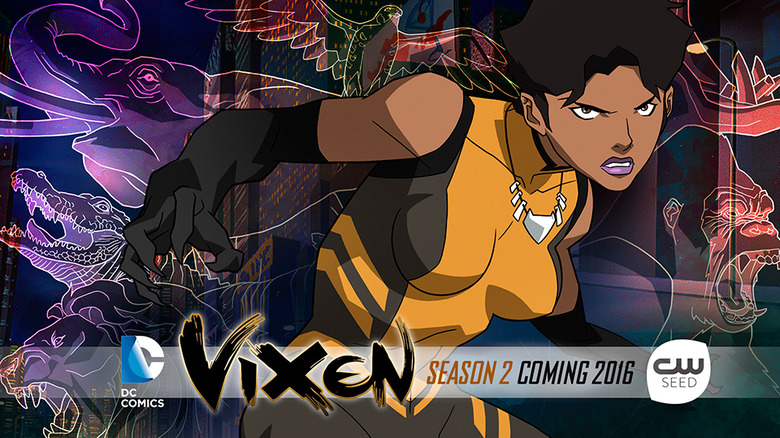 This morning, The CW presented panels to the Television Critics Association. During the Executive Session with president Mark Pedowitz, they made several announcements that will be exciting to fans of their DC properties.
Megalyn E.K., who provides the voice of Vixen in the animated CW Seed series of the same title, will be reprise her role in live-action on an episode of Arrow. "CW Seed has always been considered an incubator," Pedowitz added. "Megalyn E.K. will play the role in episode 15 or 16. It's a great story to tell." Pedowitz additionally revealed that Vixen has been renewed for a second season.
Pedowitz also announced that Kevin Smith himself will direct an episode of The Flash in May. Click through for additional updates on the Archie and Friday the 13th series, plus Pedowitz's comments on the possibility of a female-led standalone superhero series on The CW.
The CW is also developing a script for Riverdale, a darker take on Archie comics from Arrow / The Flash / Legends of Tomorrow / Supergirl producer Greg Berlanti, and Roberto Aguirre-Sacasa. Whether they shoot the pilot will be decided this pilot season.
"There is a script," Pedowitz said. "It's under the auspices of Greg Berlanti and Roberto Sacasa. We have not yet picked up the show. We're going to go through our pilot process shortly."
Explaining why they are going with a dark take on an otherwise light and happy property, Pedowitz said it was simply Berlanti and Sacasa's idea and that The CW is letting them develop it.
"When you have Roberto and Greg and they want to take a run at something, you give them that leeway," Pedowitz said. "They've earned it. That's why we went with a darker take."
Pedowitz could not address the developing Friday the 13th series, but confirmed it is still in the works. "I've not seen the script yet," Pedowitz said. "How it works, since I haven't seen the material, people are very careful waiting to show it to me."
Legends of Tomorrow will present a panel this afternoon but Pedowitz discussed the difference in tone between that show and Arrow. "There's a lot of Guardians of the Galaxy meets Doctor Who. It's fun. It takes your mind off the troubles of the world. I want popcorn with me whenever I watch it."
With Supergirl on The CW's parent network CBS, Pedowitz is hopeful there can be a female led superhero show on his network too. That will be up to Berlanti and Arrow / The Flash producer Andrew Kreisberg.
"At this moment, [there are] no [plans], but at this moment last year, Legends didn't really exist," said Pedowitz. "So time will take its toll. Particularly in Arrow, we have Katie [Cassidy] and Willa [Holland] playing great characters. In Flash you'll see Danielle Panabaker play Killer Frost. Caity Lotz has been resurrected. There will be a moment in time. I don't know when it's going to come. When Greg and Andrew knock on our door and say it's time, we'll do it."
If all goes well with Vixen, we may see a female superhero of color in her own show, or at least joining the cast of the superhero team-up. "Vixen, which was the animated piece, is a superhero of diversity and color," said Pedowitz. "Hopefully that character can spin itself out. If not, maybe join one of the legends."