'Arrested Development' Season 5 Will Be Like 'Making A Murderer', Could Hit Netflix This Year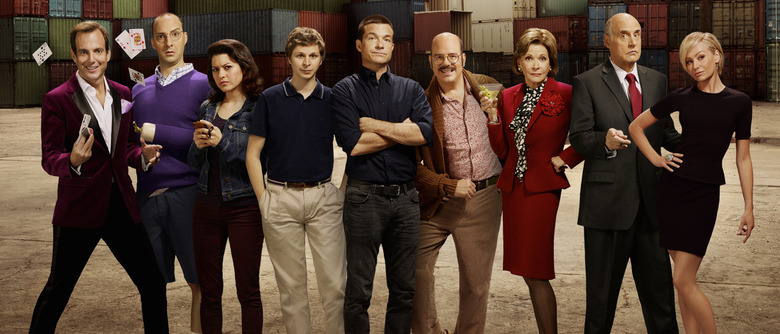 Serialized true crime stories are, as Jacobim Mugatu might say, so hot right now. WBEZ's Serial podcast had us debating a 16-year-old murder mystery, HBO's The Jinx left people talking for months, and now Making a Murderer is the obsession du jour for anyone with a Netflix account. Now the next example of that trend will be... Arrested Development?
Series creator Mitch Hurwitz recently spilled some Arrested Development season 5 plot details, teasing a drawn-out murder mystery and maybe some Donald Trump-inspired gags. He additionally shared one storyline that won't be making it into the new episodes, for which we can blame Amazon's Transparent. Finally, he revealed his hopes of getting the show on Netflix by late fall. 
Arrested Development has always been praised by fans and critics for being ahead of its time, and that doesn't seem to have changed going into the fifth season. If anything, the show might be too prescient, as Hurwitz told Deadline he's had to rewrite storylines because real life kept catching up. Case in point: Hurwitz originally had the idea that George (Jeffrey Tambor) would become a woman, altering her relationships with her adult children. But that turned out to be the exact plot of Tambor's other show Transparent, so that plotline was nixed.
In other cases, though, real-life parallels should make Arrested Development feel more relevant than ever. For example, Lindsay's (Portia de Rossi) season 4 arc ended with her deciding to run for office as a Republican, once her idea to erect a wall to keep Mexicans out of the U.S. proved unexpectedly popular. Then Donald Trump launched a bid for the Republican presidential nomination on that same premise. What seemed like an exaggerated, satirical send-up of American politics when season 3 hit in 2013 has become our reality.
Another major season 5 plotline will pick up a cliffhanger from the season 4 finale, in which Buster (Tony Hale) was arrested for the apparent murder of Lucille Austero (Liza Minnelli). When Hurwitz originally set up season 5, he couldn't have known the crime genre would suddenly explode in popularity. But now he describes the story as being in the vein of Making a Murderer (of which he is a fan). It sounds like great fun for us murder-mystery addicts, but probably not so much for poor Buster.
According to Hurwitz, he and the other writers have already outlined season 5, though he hasn't actually sat down and started writing the scripts just yet. Meanwhile, one of the biggest roadblocks standing between us and a fifth season of Arrested Development is, of course, scheduling. Negotiations with the cast are underway, but as with season 4, it'll take some fine-tuning to get everyone's availability lined up. Nevertheless, Hurwitz hopes to have the new season finished and released before the presidential election in November.
While Netflix has yet to formally announce a fifth season of Arrested Development, they have insisted "it's just a matter of when," not if. Last year, producer Brian Grazer revealed the plan was to shoot a fifth season consisting of 17 episodes or so in early 2016, for release in mid-2016.