'Elvis & Nixon' Trailer: Michael Shannon Has The Steel Claws Of A Tiger

"Everybody loves Elvis." Everybody also loves Michael Shannon, so who better to play the King than the 99 Homes star? Shannon is playing the rock icon in Elvis & Nixon, with Kevin Spacey playing the latter role. Today's Presley's birthday, so to celebrate, Amazon released a trailer and poster for director Liza Johnson's comedy.
After the jump, watch the Elvis & Nixon trailer.
In addition to Shannon and Spacey, the film also stars Colin Hanks, Evan Peters, Ashley Benson, Alex Pettyfer, Tate Donovan, and Johnny Knoxville. The tone in the trailer (via
) is pretty broad, but when you get two personalities like Elvis and Nixon in a room together, this is probably close to what really happened:
I had the opportunity to speak with Michael Shannon for 99 Homes, and
the idea of him playing Elvis took time to process:
It was pretty terrifying at first, because it just did not seem like a good idea. I kept saying, "I think the notion that I can play Elvis Presley to be a little outlandish." The producer was very diligent, she wouldn't take no for an answer. It went from being kind of scary and unsettling to being quite fun, once I felt comfortable. It's good to be scared. That's the challenge, right? I've been doing this 25 years now, so what's going to be the surprise? What's going to make me feel like something I haven't done 100 times before? Elvis definitely falls into that category.
It's easy to slip into impersonation with someone as flashy and as iconic as Elvis, but Shannon is too good of an actor to make that mistake. He's also in fine hands with director Liza Johnson, who always gets excellent performances.
Johnson's previous films Return and Hateship Loveship are heavy on drama, so I'm curious if there's a more serious side to Elvis & Nixon we're not really seeing in this trailer. You definitely see glimpses of actual drama between the two men.
Here's the official poster for Elvis & Nixon: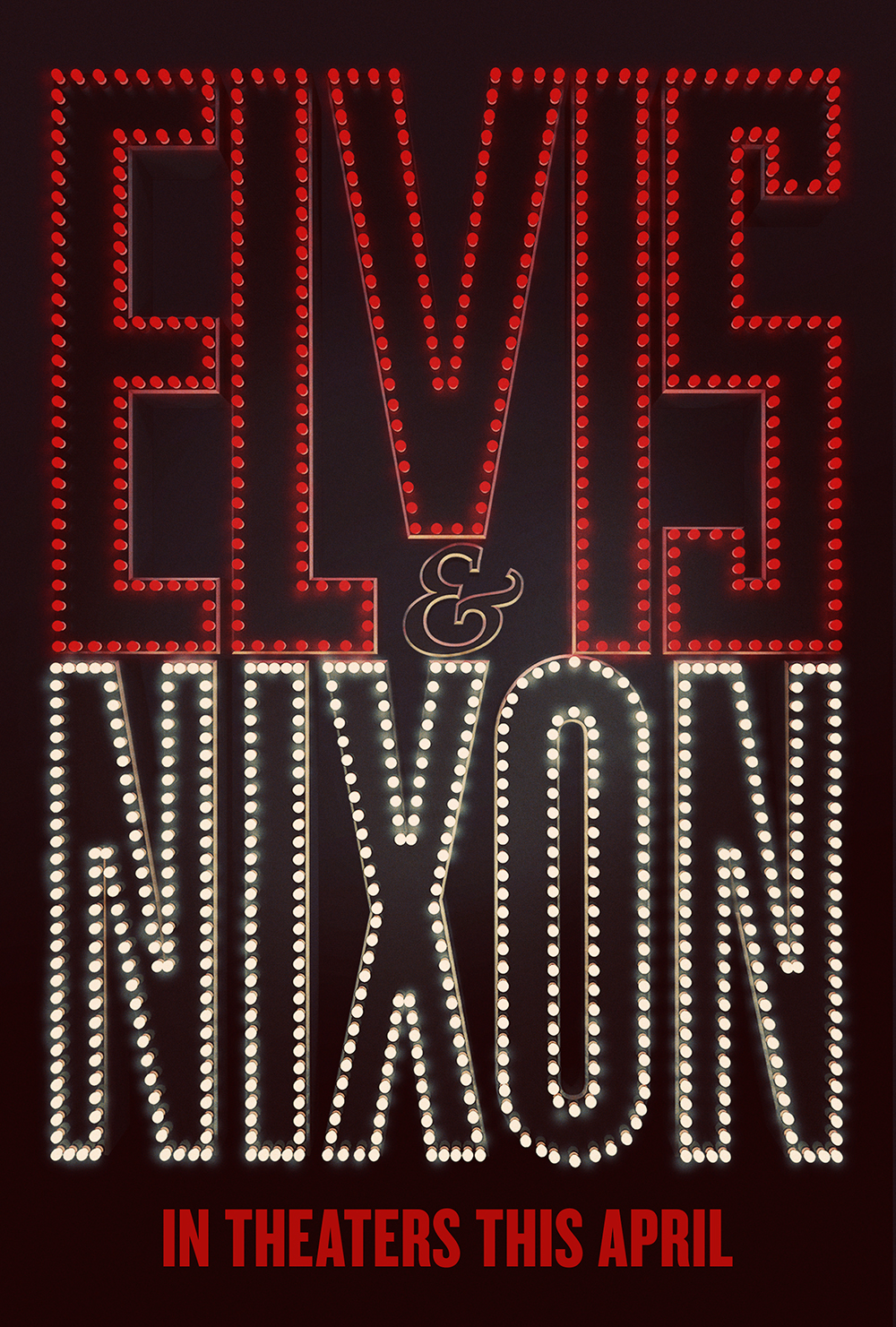 And here's the official synopsis for Elvis & Nixon:
On a December morning in 1970, the King of Rock 'n Roll showed up on the lawn of the White House to request a meeting with the most powerful man in the world, President Nixon. Starring Academy Award® nominee Michael Shannon as Elvis Presley and two-time Academy Award® winner Kevin Spacey as Richard Nixon, comes the untold true story behind this revealing, yet humorous moment in the Oval Office forever immortalized in the most requested photograph in the National Archives.
Elvis & Nixon opens in theaters in April.