'Ash Vs. Evil Dead' Season 2 Script Is In, And More News From The Starz TCA Presentation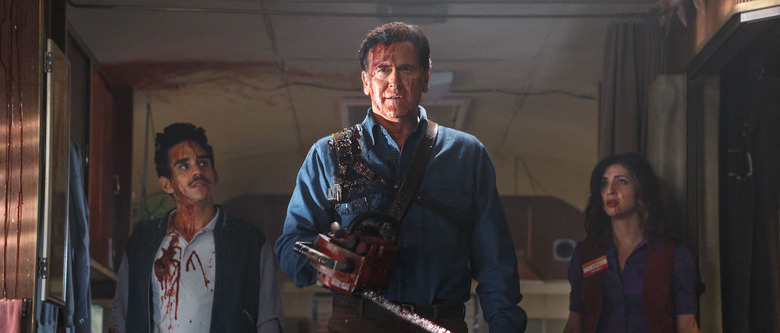 Starz presented to the Television Critics Association this morning and Starz CEO Chris Albrecht announced new series collaborations with Alejandro González Iñárritu and Alejandro Brugués. We asked the status of the second season of Ash vs. Evil Dead, which was greenlit before the season one premiere. Albrecht says development is moving full speed ahead. 
"Saw the first script a couple days ago," Albrecht said. "Looks really good. Second seasons are so important for series. That's the difference between making a movie and making a series. The cast really gelled through the first season. They appropriately got a lot of acknowledgment from the fans and press. We're really excited. This is a series. I think it's got the legs of a real series. The storylines and what I've seen on paper back that up. We're on track for another season in 2016."
Albrecht briefly touched on the upcoming Bryan Fuller series American Gods, only to confirm that production is "based in Toronto."
Starz is also presenting panels for their Girlfriend Experience series from Steven Soderbergh, and returning shows Black Sails and Outlander today.
Campbell reprises his role as Ash, the stock boy, aging lothario, and chainsaw-handed monster hunter who has spent the last 30 years avoiding responsibility, maturity and the terrors of the Evil Dead. When a Deadite plague threatens to destroy all of mankind, Ash is finally forced to face his demons –personal and literal. Destiny, it turns out, has no plans to release the unlikely hero from its "Evil" grip.
The cast is led by Bruce Campbell (Evil Dead, "Burn Notice") in the role of Ash Williams, Lucy Lawless ("Salem," "Spartacus," "Xena") as Ruby, a mysterious figure who believes Ash is the cause of the Evil outbreaks, Ray Santiago ("Touch," Meet the Fockers) as Pablo Simon Bolivar, an idealistic immigrant who becomes Ash's loyal sidekick, Dana DeLorenzo (A Very Harold & Kumar 3D Christmas) as Kelly Maxwell, a moody wild child trying to outrun her past, and Jill Marie Jones ("Sleepy Hollow") as Amanda Fisher, a disgraced Michigan State Trooper set to find our anti-hero Ash and prove his responsibility in the grisly murder of her partner.