'The Witch' Release Date Moved Up One Week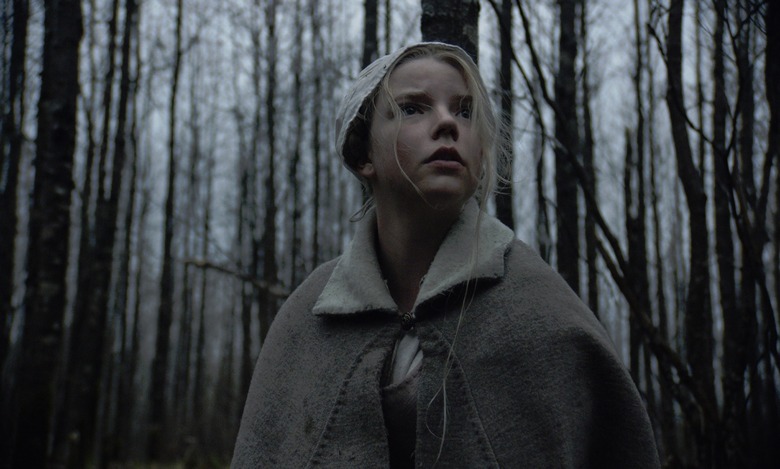 Writer-director Robert Eggers' The Witch played at the Sundance Film Festival and Fantastic Fest last year, and I somehow managed to miss all the screenings, and, yes, I have been kicking myself in the head for the past few months for it. There is always that one film at a festival that draws universal acclaim and then, somewhere along the way, someone shows up and says, "It's not that good." That never happened for The Witch. The film is scheduled to open next month, but A24 just bumped up The Witch release date.
Find out more about the film after the jump.
A24 is clearly confident in the horror movie. Instead of beginning with a limited release, they're releasing the film wide. Sometimes that's a risky call, but it feels like a good bet in the case of The Witch. Eggers' picture was originally scheduled to open on February 26th. Now, it'll hit theaters on February 19th.
Jacob Hall, unlike me, had the opportunity to see the film at Fantastic Fest, and he went as far as to drop a comparison to The Shining:
The Witch is not a typical horror movie. Recalling the icy precision of Stanley Kubrick's The Shining, this is a detailed period piece that slowly lowers you into a pool of bad feelings. Things are grim by frame one (this is Puritanical New England, after all), but Eggers and his collaborators pull no punches. The stakes of the story are established by the second scene, and from that point on, the film ratchets up the dread. There are no jump scares here and no concrete answers. There is only a portrait of a family torn apart by forces that mean to damage their very souls. Eggers' direction is clinical and his script sparse. The Witch gets violent, but its real brutality is emotional. This is the kind of horror movie that targets your soul, not your pulse.
That's exactly the kind of horror movie I want to see, and it's also the kind we don't see often enough: emotionally brutal horror movies. Thus far, A24's marketing has reflected Jacob's thoughts on the film. The trailer is downright chilling, but then again, anything involving woods, creepy old ladies, and kids is going to have that effect.
Here's the official synopsis:
In this exquisitely made and terrifying new horror film, the age-old concepts of witchcraft, black magic and possession are innovatively brought together to tell the intimate and riveting story of one family's frightful unraveling in the New England wilderness circa 1630. New England, 1630. Upon threat of banishment by the church, an English farmer leaves his colonial plantation, relocating his wife and five children to a remote plot of land on the edge of an ominous forest – within which lurks an unknown evil. Strange and unsettling things begin to happen almost immediately – animals turn malevolent, crops fail, and one child disappears as another becomes seemingly possessed by an evil spirit. With suspicion and paranoia mounting, family members accuse teenage daughter Thomasin of witchcraft, charges she adamantly denies. As circumstances grow more treacherous, each family member's faith, loyalty and love become tested in shocking and unforgettable ways. Writer/director Robert Eggers' debut feature, which premiered to great acclaim at the 2015 Sundance Film Festival – winning the Best Director Prize in the U.S. Narrative Competition – painstakingly recreates a God-fearing New England decades before the 1692 Salem witch trials, in which religious convictions tragically turned to mass hysteria. Told through the eyes of the adolescent Thomasin – in a star-making turn by newcomer Anya Taylor-Joy – and supported by mesmerizing camera work and a powerful musical score, THE WITCH is a chilling and groundbreaking new take on the genre.
The Witch opens in theaters February 19th.