'Better Call Saul' Season 2 Footage: Slippin' Jimmy Slips Out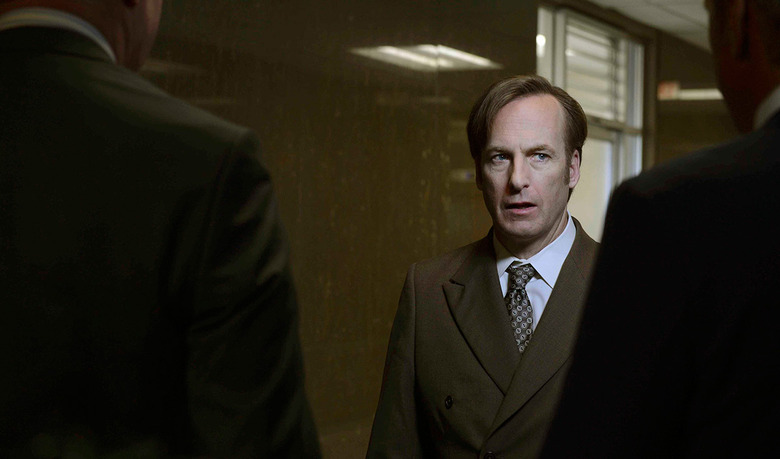 With exactly one month to go until its return, Better Call Saul has finally, at long last, released the first bit of new footage from season 2. Jimmy McGill is still Jimmy McGill at this point, not Saul Goodman, but you can see a bit of good old Slippin' Jimmy slipping out. And no wonder, given what we saw of his life last season. Watch the first Better Call Saul season 2 footage after the jump.
We already know the endpoint of Jimmy McGill's story. Indeed, Better Call Saul actually opened with an epilogue to Breaking Bad, showing us where Saul Goodman (née Jimmy McGill) wound up after his entanglements with Walter White. But Better Call Saul meticulously breaks down how we got there — how a con artist trying to go good wound up breaking bad — and the results are surprisingly devastating.
In the first season, we watched as Jimmy tried, with mixed results, to establish himself as a legitimate lawyer like his brother Chuck (Michael McKean). But following a tragedy and a gut-wrenching reveal, the finale saw Jimmy veering back off the straight and narrow path. Season 2 looks to take Jimmy even further away from legitimacy, much to the disapproval of his best friend and voice of reason, Kim (Rhea Seehorn). "I've been doing the right thing for all these things now, and where has it gotten me?" he asks her. "Nowhere!"
But just because we know where Jimmy ends up, doesn't mean we know how we'll get there, teased showrunner Peter Gould:
Jimmy McGill's journey takes surprising, left-handed turns in Season 2 He goes to places we'd never, ever expected. As for Mike Ehrmantraut (played by Emmy nominee Jonathan Banks), he's pulled deeper into a world he was sure he'd left forever. We can't wait to share the next chapter of Better Call Saul with the fans who have embraced the show.
Better Call Saul returns to AMC for its second season on February 8.