'Tumbledown' Trailer: Turns Out Jason Sudeikis Is Pretty Good At This Whole Romcom Leading Man Thing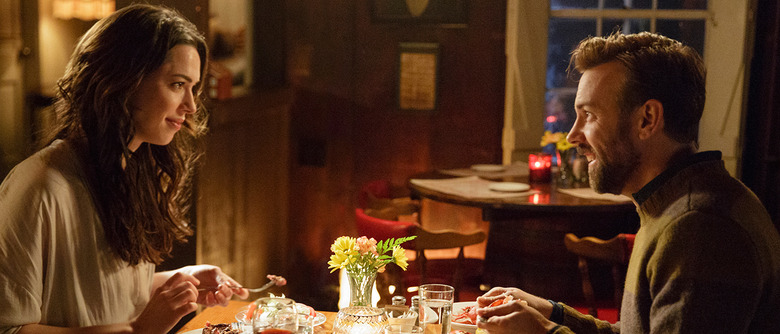 Jason Sudeikis got his start on Saturday Night Live, and he still does his fair share of goofy comedies – he'll be voicing one of the angry birds in Angry Birds, for example. But recently, he's also started to emerge as a viable romcom leading man. He did excellent work opposite Alison Brie in last year's Sleeping With Other People, and now he's following it up with the indie dramedy Tumbledown.
His leading lady here is Rebecca Hall, the still-grieving widow of a musician. When Sudeikis' Andrew, a pop culture scholar, arrives to conduct some research on her late husband, she treats him with hostility at first, but... well, if you've ever seen a romcom before, you can probably guess where this is going. Watch the Tumbledown trailer after the jump. 
[via Apple]
It all looks rather predictable and a bit schmaltzy, but there's an inviting tenderness to the film that elevates it beyond the usual romcom clichés. Sudeikis can do "douchey" really well, as seen in films like We're the Millers and Horrible Bosses, but apparently he's also quite adept at playing sweet and sincere. And Hall, so often underutilized in films like Transcendence, Iron Man 3, and The Town, thankfully gets what looks like a meaty, complicated role. If the pair have good chemistry — and based on the trailer, it looks like they do — this could be a sweet little treat.
Directed by Sean Mewshaw, Tumbledown is in theaters and on iTunes February 12. Perfect timing if you're looking for something a little more romantic than Deadpool or Zoolander 2 to share with your sweetheart this Valentine's Day, especially since the day-and-date release means you can check it out while snuggled up in bed.
Pop culture scholar Andrew (Jason Sudeikis) comes to Maine to interview Hannah (Rebecca Hall), the protective widow of an acclaimed singer. When the unlikely pair strike a deal to co-write a biography, Andrew finds himself clashing with a cast of locals, including Hannah's hunky suitor (Joe Manganiello) and her loving but defensive parents (Blythe Danner, Richard Masur). When Hannah and Andrew's stormy partnership blossoms into an unexpected connection, they face the possibility that the next chapter in their lives may involve each other. Dianna Agron and Griffin Dunne costar in this startlingly funny and sweetly romantic tale of moving on and finding love in the unlikeliest of places.