'American Crime Story' Season 2 Will Be About Hurricane Katrina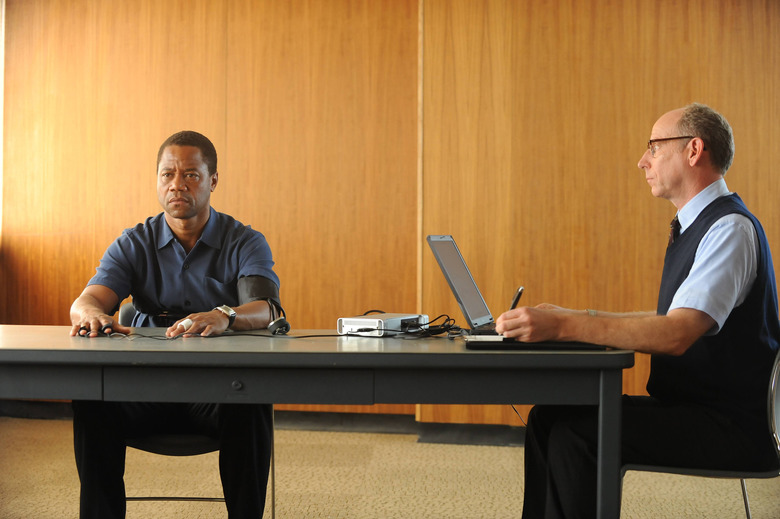 American Crime Story: The People vs. O.J. Simpson won't premiere on FX for another few weeks, but Ryan Murphy is already making plans for season two. The executive producer has revealed that the next installment of the true-crime anthology series will focus on Hurricane Katrina, which devastated New Orleans in late summer 2005. More details on American Crime Story season 2 after the jump. 
Strictly speaking, Katrina isn't a crime story, or at least not in the way the O.J. Simpson trial was one. But the show's aim extends beyond criminal investigations and court cases, to big moments in American culture. "Ones where there are before and after moments, and they change the way we look at the subject at hand," executive producer Nina Jacobson explained to THR. "There is plenty of true crime stuff available on TV, but [this is about] the degree to which certain pieces come to stand for much more."
Besides, Murphy pointed out, the Hurricane Katrina tragedy was a crime in a broader sense. "I want this show to be a socially conscious, socially aware examination of different types of crime around the world," he said. "And in my opinion, Katrina was a f—ing crime — a crime against a lot of people who didn't have a strong voice and we're going to treat it as a crime. That's what this show is all about."
The broader focus is probably a smart move. True crime is incredibly popular right now, as evidenced by the success of Serial, The Jinx, Making a Murderer, etc., and American Crime Story could stand out from the crowd by offering a slightly different variation on the genre. The show will follow six to eight characters across multiple aspects of the disaster, "from the Superdome to the hospital to those who were put on buses and dropped off with babies who were forced to wear trash bags for multiple days."
The story isn't the only thing that'll change between the first and second seasons of American Crime Story, however. Scott Alexander and Larry Karasewski, who wrote the first season, will not return for the second. Instead, they'll be busy adapting Jeffrey Toobin's book about Patty Hearst into a movie. The producers are already speaking with other writers for American Crime Story season 2.
While American Crime Story hasn't officially been renewed for season 2, the producers are clearly (and quite reasonably) optimistic. The current plan is to shoot season 2 in New Orleans this fall, for a February 2017 premiere date. The first season of American Crime Story, starring Cuba Gooding Jr. as O.J. Simpson and John Travolta as Robert Shapiro, kicks off February 2. "O.J. is a hard act to follow," admitted executive producer Brad Simpson.