TNT Kills Live-Action Teen Titans Drama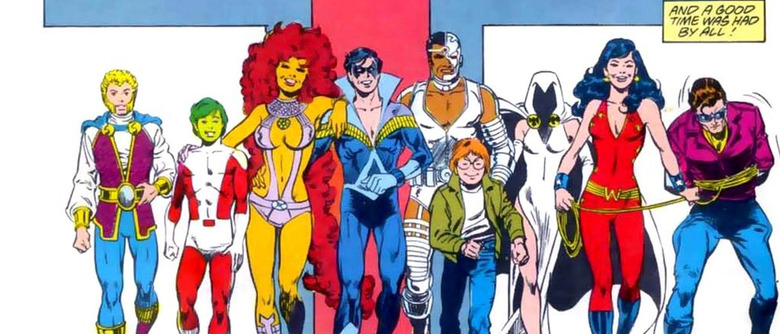 Well, here's one fewer superhero show for you to keep track of next season. Titans, a live-action drama which would have centered on the DC Comics superhero team known as the Teen Titans, is officially dead at TNT. The news comes over a year after the network first put the project into development. Find out what happened with the Teen Titans TV show after the jump. 
TNT confirmed the Titans news during their TCA presentation. "We decided it wasn't where we wanted to go," said TNT's Kevin Reilly. As Deadline reports, Titans was put into development at TNT in May 2014, to fit with their lineup of fluffier four-quadrant fare. Under Reilly, who took over as the president of TNT and TBS in November 2014, the network has been moving toward darker, edgier material, and Titans apparently didn't fit the mold anymore.
Based on the Teen Titans comic book characters, the show would have followed a group of young superheroes led by Dick Grayson / Nightwing (formerly Batman's sidekick Robin). Other characters expected to appear included Starfire, Raven, Oracle, Dove, and Hawk. Akiva Goldsman and Marc Haimes wrote the pilot. Goldsman also served as executive producer, and Haimes as co-executive producers. It's possible that Titans could end up at a different network, but as of now we haven't heard any news on that front.
Though Titans was ordered to pilot before his tenure, Reilly initially planned to proceed with the superhero drama. Last May, he suggested that casting and shooting could get underway as early as summer, and offered hints to press about what the show had in store. "I sat down with Akiva and said — and he ultimately agreed — that the [TV] landscape right now is well-serviced on the superhero front. So what space is this going to inhabit?" he said. "And really what he wants to do is be very true [to the comics]."
At the time, Reilly also talked up how "groundbreaking" the original Teen Titans comics were. "There were consequences to things that happened; it wasn't somebody died and they moved on," he gushed. "There was the first superhero to be an addict [i.e., Speedy]. It's a coming-of-age story for Robin, who feels like Batman has betrayed him." And as for the new TV series, he predicted, "I think it's going to end up being a very, very interesting offering. I think it's going to be excellent."
Even so, the news that the Teen Titans TV series has been axed shouldn't come as a huge surprise. The initial announcement of a Titans TV series was met with much excitement, but since then we've had radio silence from the project. (Reilly's nice words above notwithstanding.) The news will surely come as a disappointment by Teen Titans fans, of which there are many — but also, perhaps, a relief for TV viewers who already have more superhero shows on their DVR than they know what to do with.