Fan Favorite Stormtrooper TR-8R Details Confirmed By Lucasfilm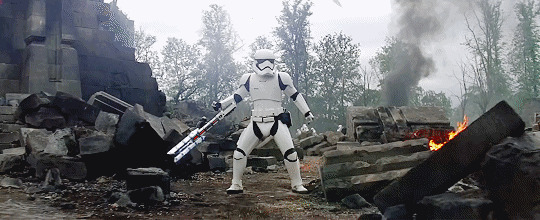 Last week we wrote about the a First Order Stormtrooper that took the internet by storm and became the unexpected breakout character of Star Wars: The Force Awakens. Fans had named the riot control bato-weilding First Order stormtrooper the designation TR-8R, a reference to his line calling Finn a "TRAITOR!" We even speculated that TR-8R's backstory might have been revealed in one of the Force Awakens tie-in novels. Lucasfilm has confirmed the Stormtrooper's origins, alongside the people who play him (yes, he has both a voice and stunt credits).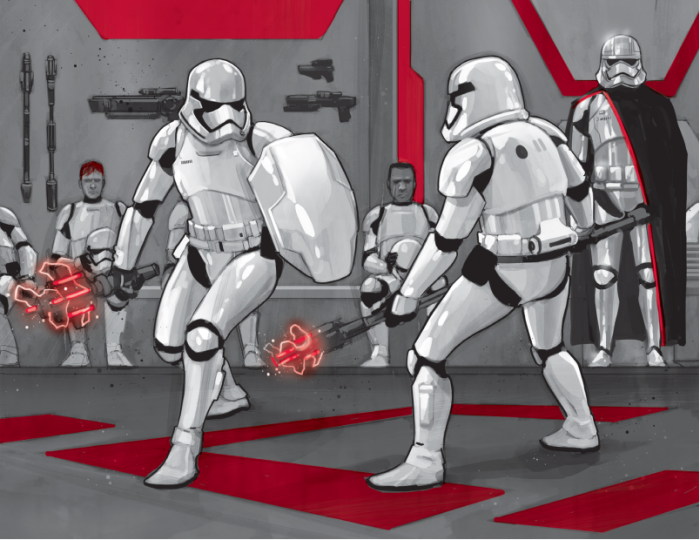 Lucasfilm Confirms TR-8R is FN-2199
Lucasfilm confirms that the Stormtrooper dubbed TR-8R by the internet is in fact FN-2199 (aka "Nines"), a character the was introduced in Greg Rucka's book Before the Awakening. As we told you last week, "Nines" trained and served on a squad with Finn (then FN-2187) in the First Order, which explains why he is so angry upon seeing his former friend at Maz's Castle. The image above, from Before the Awakening, features FN-2199 seated in the background with red hair.
You've heard his work before. Kind of! FN-2199's voice (including, of course, "Traitor!") was provided by David Acord, a Skywalker Sound sound editor. Acord's production credits include Attack of the Clones, Revenge of the Sith, Star Wars: The Clone Wars, Star Wars Rebels, and Star Wars: The Force Awakens. Pretty good training for a stormtrooper. (Inside the armor is Liang Yang, a veteran stunt performer. Without his baton spinning, I wouldn't be writing this.)
Liang Yang has worked on Game of Thrones, Pirates of the Caribbean: On Strange Tides, X-Men: First Class, Snow White and the Huntsman, Skyfall, World War Z, Edge of Tomorrow, Dracula Untold, Exodus, Kingsman and many other films. Lucasfilm goes on to explain Nine's role in the First Order:
There's a reason that Nines gets to use an awesome weapon (which is called a Z6 baton). He's riot control, and part of an elite squad that enforces order or squashes uprisings. While their weapons are non-lethal in theory, the Z6 can definitely cause harm or kill an opponent when used with brute force. Look, if a lightsaber can't cut it, you know it ain't good news.
Now that we have a confirmation that TR-8R is in fact FN-2199, I think I'm still going to use the designation lovingly given to him by Star Wars fandom. And while the film leads us to believe that TR-8R has been killed off, StarWars.com jokes that he may have lived: "Let's hope we haven't seen the last of Nines. Or TR-8R. Who wouldn't want to see Round 2...and all the memes it could inspire?"