Guillermo Del Toro Might Go On A 'Fantastic Voyage' With James Cameron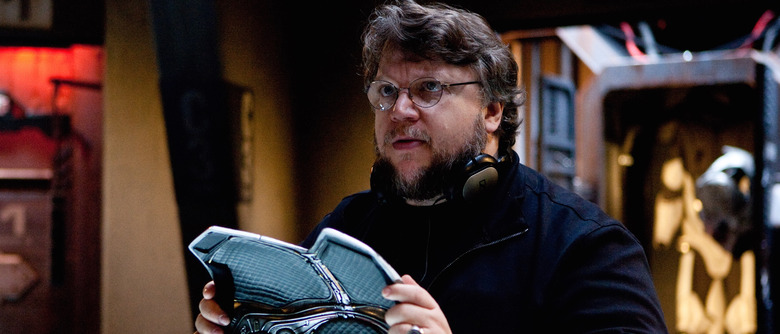 It's been a couple of years since we last heard about Fantastic Voyage, which means we're due for another update on the long-gestating James Cameron project. And this one is definitely worth the wait.
Guillermo del Toro is looking to direct the remake of the 1966 sci-fi adventure, which is set up at 20th Century Fox with Cameron producing through Lightstorm Entertainment. Del Toro, you'll recall, has a wide-open schedule now that Pacific Rim 2 has been halted indefinitely. But don't worry, there's a small, potentially positive update about Pacific Rim 2 here, too. 
THR reports del Toro has entered talks to helm Fantastic Voyage, which is envisioned as an "event-sized tentpole." David Goyer wrote the treatment and the script, and will work with del Toro to further develop the script. Goyer and del Toro previously worked together on Blade II. Fantastic Voyage is also a reunion for del Toro and Cameron, who tried to mount an adaptation of H.P. Lovecraft's At the Mountains of Madness together.
The original Fantastic Voyage was a Cold War adventure about a team of scientists who shrink themselves down to atomic size and enter a man's body to try and save his life. That premise may sound familiar even if you've never seen Fantastic Voyage, as it's been parodied and riffed on countless times including in shows like Futurama, Family Guy, and Archer. Joe Dante's Innerspace was also inspired by it.
The Fantastic Voyage reboot has been in development for several years, with Cameron signing on about ten years ago. Roland Emmerich, Paul Greengrass, Louis Leterrier, and Shawn Levy have all been linked to the project at various points. Before Goyer, Marianne and Cormac Wibberly, Shane Salerno, Laeta Kalogridis, and Cameron himself all took turns trying to crack the screenplay.
Del Toro was originally planning to follow up Crimson Peak with Pacific Rim 2, due out in 2017, but Universal hit the brakes last fall. As of now there's no word on if or when progress will resume on Pacific Rim 2. The answer might be never. However, THR offers a small glimmer of hope. You see, Chinese conglomerate Dailan Wanda Group is about to acquire a majority stake in Legendary Entertainment. And while the original Pacific Rim tanked in the U.S., it did big business in China. A sequel seems somewhat more plausible once you look at the Chinese box office numbers.
But if a Pacific Rim sequel happens, it's probably still a ways off. Fantastic Voyage looks likely to be del Toro's next project as of now. No release date has been set as of yet. While we wait, revisit the trailer for the original Fantastic Voyage below.
And here's a promo for the Archer version, because why not?